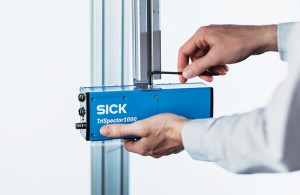 SICK has launched its first 'plug-and-play' 3D vision sensor in the UK, the TriSpector 1000, delivering real-time 3D quality inspection in a self-contained unit that is simple to install and use.
Developed by SICK in close cooperation with customers worldwide, the TriSpector 1000 is expected to open up affordable 3D vision sensing for a wide range of processing and packaging operations.
It will provide FMCG product pick, placement & packaging operations, contract packers and warehouse operators with true 'out-of-the-box' 3D vision without the complexity or cost of conventional 3D vision solutions.
"With the TriSpector 1000, engineers can now access reliable entry-level 3D inspection without having to be a vision or software expert," says Neil Sandhu SICK (UK) machine vision specialist. "There's no additional programming:  Teach in the requirements via the display on the compact, stand-alone unit and the TriSpector will start inspecting and communicate with your factory control communications network!"
www.sick.com