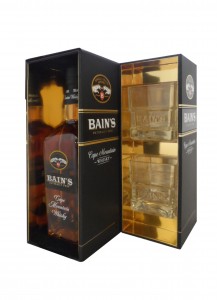 PPS, an InnerWorkings Company, has broken into the South African market, having been commissioned by the country's leading drinks producer Distell to design and produce standout packaging for its Bain's Whisky brand.
Working closely with its InnerWorkings sister company in Johannesburg, PPS created two luxury Christmas gift packs.  One of the packs contains a bottle of Bain's Cape Mountain whisky and two Bain's crystal glasses, while the other includes a Bain's mobile phone power bank charger.
Both gift packs use the same unique design with one half opening through 270 degrees from a hinge point.  Once open, it creates a display feature which ensures the bottle is the hero at the front, with the value added product offset behind.  The lid then folds back on itself and with the use of concealed magnets holds the pack open.
The packaging is printed six colours with a soft touch matt laminate finish.  It features spot gloss varnish in conjunction with foil blocking to enhance the brand logo's in display lighting conditions. When closed, the pack maintains a strong brand identity and when open, an eye catching display. To differentiate the two gift packs there is a subtle embossing of a silhouette of the bottle and relevant gift, which is re-emphasised on the side with foil blocking of the same silhouette.
Robyn Schäfer, the project and process manager for gifting at Distell Group, said, "It is the first time we have worked with PPS and it has been excellent experience from beginning to end due to their proactive approach, attention to detail and management of the project. The packs look stunning and will certainly make the whisky even more desirable when displayed on shelf."
www.p-p-s-ltd.com