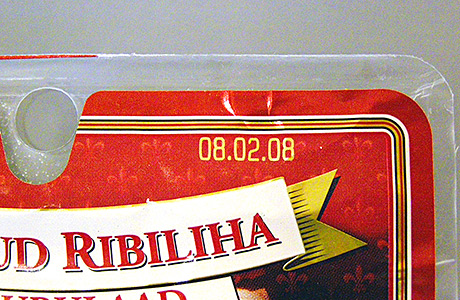 In many packaging applications, the combination of a pre-printed label and laser marking is a perfect fit.
UK distributor Laser Lines Ltd offers the complete range of Synrad CO2 lasers which are ideally suited to laser marking labels for the packaging industry. In addition to the base label colour, the images on a label can include several spot colours or even a four-colour process print for realistic full-colour graphics. Laser marking adds the ability to add customised information including date codes or lot numbers on-the-fly at the time of actual product packaging.
A good example of this is packaging for processed meats, which consists of a self-adhesive gold foil label that is overprinted with both spot and process colour. At the time the product is packaged and sealed, the manufacturer is required to mark a date code on the package. The Synrad CO2 laser makes a perfect non-contact marking tool and ablates the ink away from the gold foil, leaving an impressive gold-coloured mark that matches the packaging perfectly.
Tel: 01295 672500