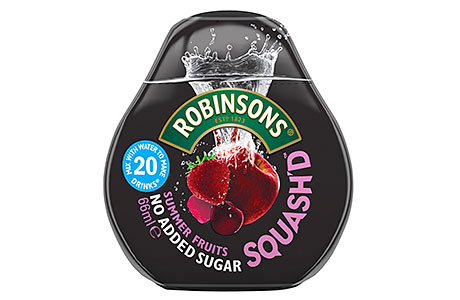 High impact sleeves from CCL Decorative Sleeves are helping to maximise on-shelf presence for packs of the innovative Robinsons Squash'd super-concentrated squash drink.
Designed for on the go, in the office and at home, the compact 7cm-high bottle of Robinsons Squash'd contains 66ml of liquid and can be held in the palm of a hand but is capable of making the same amount of squash as a standard one litre bottle. The pack can be carried in a pocket or handbag and squeezed to add the squash to a glass or bottle to make a drink. It features a valve and flip-top cap to avoid spills.
The PET sleeve provides all-over coverage to maximise attention for the compact bottle shape. The sleeve also covers the cap to ensure effective tamper evidence. It is UV flexo printed in nine colours with a black background that features illustrations of the three fruit flavours currently available – summer fruits, apple & blackcurrant, and orange & peach.
CCL Decorative Sleeves provided full technical support to the project to ensure the sleeve fits tightly around the contours of the distinctively-shaped bottle.
Tel: 01553 769319