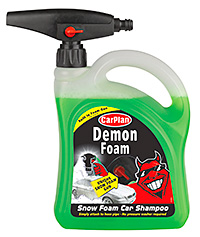 RPC Containers has created a bespoke plastic container for the latest car care innovation from Tetrosyl.
CarPlan Demon Foam is the only car shampoo on the market able to dispense a dense snow foam simply by attaching a hose pipe, without requiring a pressure washer. A 'foam gun' allows users to switch between rinsing and foaming and a pack solution was required to enable this to be easily stored in and fixed to the pack, while at the same time effectively communicating the concept to the consumer.
RPC Design worked closely with Tetrosyl to develop a special container with a deep recess at the rear where the Foam Gun is held during transit and in-store. In addition, a hole that runs through the centre of the pack enables consumers to see the applicator when the pack is front facing on-shelf.
Tel: 01933 411221