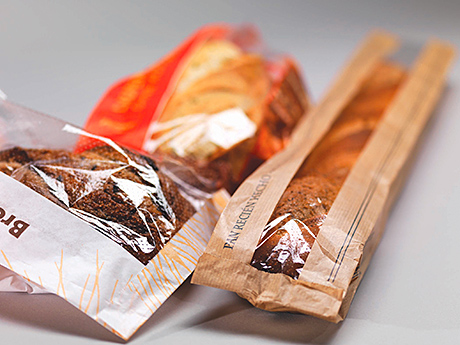 Addressing the lunchtime "on the go" food market, LINPAC Packaging is extending its Freshware range for sweet and savoury foods.
For wraps and tortillas it has developed Vertiwrap®, a hinged box made from crystal clear rPET which stands vertically on the shelf to let shoppers see the contents clearly. The Freshware range, aimed at chilled retail prepared and convenience foods, now also incorporates LINPAC's paper bags. They are ideal for shops and bakeries serving freshly made sandwiches and savoury snacks.
Sweet-toothed snackers are addressed by a collection of individual and twin portion size LeanBake packs for baked confectionery such as gateaux, cakes, pastries, slices, biscuits and doughnuts. Like Vertiwrap, the packs are made from crystal clear rPET to enhance product shelf appeal and come as a hinged box or tray and lid combination.