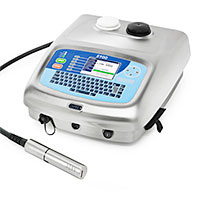 Continuous Ink Jet (CIJ) Printers are one of the oldest and most mature printing technologies still in use today, and it is a testament to the technology that it has been around for so long and is still used on such a large scale.
The technology works by expelling electrically charged ink droplets from a printhead nozzle, proceeding to pass them through an electric field.
There are many advantages of the CIJ technology, which is the reason that so many companies still rely on it on a day to day basis. The main advantage being that it can be used to mark or code on almost any material, at any speed and orientation, regardless of many characteristics including porosity, size, shape and texture.
In addition to this, Continuous Inkjets are renowned for great printing tolerance, even on surfaces that are not flat or still – for instance, wobbling bottles! This is attributed to the fact that up to 120,000 droplets are expelled every second, without contact to the material, meaning that the technology is incredibly versatile.
Also, when comparing to other marking and coding technologies, the capital costs are relatively low, many CIJ printers offering thousands of hours worth of running time without the need for service. This ensures reliable and cost effective printing in even the most high pressure production environments.
Finally, there are also a wide range of inks available for Continuous Inkjet Printers, which can offer low evaporation, low taint and a wide spectrum of colours. The solvent base used by many of the inks means that they also dry very quickly, meaning that CIJ solutions are ideal for products on fast moving production lines.
As a result of this range of inks, continuous inkjet solutions' versatility allows them to print onto products for the beverage, food and other packaging industries. An example of this sort of printer includes the Linx 5900.