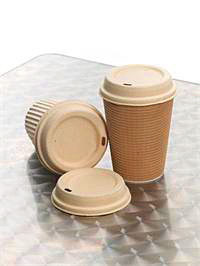 Tri-Star Packaging has launched a ground-breaking plant-based cup lid for hot drinks that can be composted by consumers at home.
The eco-friendly cup lid comes top in the green stakes, says the company, because other so-called 'sustainable' hot cup lids are usually made of plastic and have to be composted industrially.
By contrast, Tri-Star's lid is manufactured from a sugar cane pulp known as Bagasse, a natural and renewable material that helps prevent widespread destruction of forests and reduces the high levels of toxic waste produced by the plastics manufacturing process. The cup is capable of withstanding temperatures of up to 100°C without distorting, going soft or popping off. It is refrigerator and freezer-safe as well as microwave-proof, making it suitable for holding soup products.
Tel: 0141 771 2554