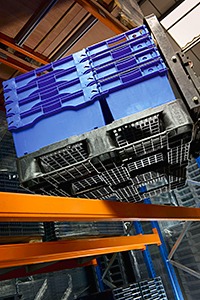 AMONG the many new products being unveiled for the first time at this year's IMHX show is a new pallet from Goplasticpallets.com.
The Eastbourne-based supplier, a division of All Pallets Ltd, will introduce delegates to its HyRack pallet option which managing director Jim Hardisty describes as a "reliable workhorse".
The company gained sole UK distribution rights to the HyRack pallet when Belgian manufacturer IPS acquired the moulds and machinery.
Hirdisty explained: "We have a great partnership with Belgian pallet manufacturer IPS and can rely on them to produce exceptional quality products as their technical knowledge and injection-moulding expertise is second to none. The HyRack pallet is a welcome addition to our range of heavy duty plastic pallets."
It has a static load capacity of 7,000kg, a dynamic load capacity of 2,000kg and is capable of supporting up to 1,000kg in beam and edge racking systems.
Moulded as a single piece measuring 1200mm x 1000mm, the pallet's open flow-through top deck has no internal cavities where mould, dust and other contaminants can collect. The design also incorporates lead in ramps on the internal edge of the base runners, rounded block sections, optional edge lips and anti-skid plugs and can be personalised through moulded-in logos or screen printing.
The pallet's rigid base offers four-way access for fork lifts and pallet trucks and due to its rigidity and solid structure it is well suited to conveyor systems and other automated handling operations.