The vast array of packaging products means the success of filling machinery specialists goes hand in hand with versatility.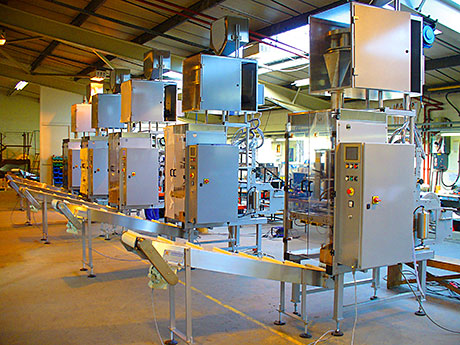 ONE example is Lincolnshire firm Gainsborough Engineering Ltd – a manufacturer of vertical form fill and seal machines, conveyors and rotary volumetric cup fillers.
The company has been operating for 40 years and during that time it has acquired the skills and knowledge to design, manufacture, assemble, test and install its own machines.
It has in-house design and detail facilities as well as a comprehensive electronic software facility where its staff write programmes for Gainsborough and its associated equipment.
"We have a service department that commissions the equipment and trains the operatives and engineers on how to use and programme the machines/systems. Service contracts are available to all customers," explains sales director Adrian Shenton.
Gainsborough's range of vertical form fill and seal machines is based on a modular concept in which the frame size is determined by the bag size. The optional components are then selected by the user enabling them to achieve flexibility in their choice of machine requirements.
Further flexibility within the range enables the user to specify the type of drive, pneumatics, plc and electronics. Block bottom attachments, valve applicators, gas flushing, carry handles, tear strips and a choice of printers are just some of the options available.
Its main customers include well-known names such as Nestle, Royal Mint, Cadbury, British Bakels, Samworth Brothers, Bennington Foods, Kerry Foods and also small functional companies such as Sweets for Life, Roche Sweets and Burns Pet Nutritional Foods. A programme of continual improvement and agents that sell throughout Europe, Africa and the southern hemisphere gives the firm a global reach but growth is still part of the game plan.
"We are actively looking to take on pro-active agents and work in close harmony with other key engineering companies that work mainly within the food and ingredient sectors," says Shenton.
"Due to Gainsborough Engineering Ltd being a privately owned company that manufactures its own equipment, it is able to be flexible in order to satisfy its customers' needs. The majority of those working for Gainsborough have worked within the packaging industry for many years.
"Our product range covers the entire packing arena from grammes up to 25 kilograms. We are active within many industries; food (fresh and frozen), liquids, powders and solids, hardware, pharmaceutical, confectionary, electrical and building industry."
That same desire to meet customer demands is in evidence at Adelphi which recently came to the aid of a firm with very specific packaging needs.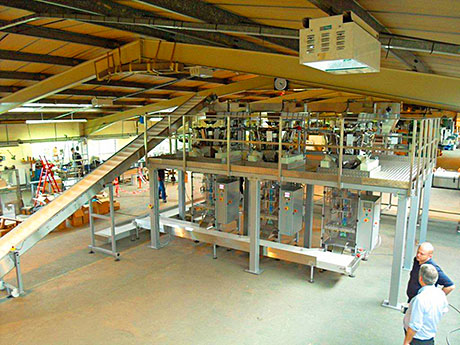 Based in Tiverton, Devon, Broad Oak Toiletries is a contract manufacturer of personal care products, toiletries and fragrances. Besides producing and packaging products for sister company Floris London, Broad Oak is also entrusted with a number of well-known perfume and toiletries brands. Because these products command a premium price tag, it is essential they be filled cleanly and without costly giveaway.
Broad Oak approached Adelphi because it was having difficulties filling a particular product – an exfoliating face mask.
"It was a really awkward product – thick, granular and paste-like," recalls Andy Pocock, production engineer at Broad Oak. "The equipment we had was really struggling and speeds were down to 40 units per hour."
Broad Oak was already in contact with Adelphi as it had a 20-year old Adelphi Centrair filler on site, so Pocock approached Adelphi about building a bespoke filler for the problem product. He was initially dubious when Adelphi suggested the off-the-peg Response instead but his scepticism didn't last long and the results prompted the firm to invest in its first Response, followed soon after by a further three machines for fulfilling lower volume orders.
Dean Willis, sales director at Adelphi, says its performance is due in part to the rotary valve head. "The filling head incorporates three holes which alternate between the hopper and the feed pipe. If sucking product into the cylinder, the nozzle exit is closed. When the cylinder is filled, the valve rotates, closing the entrance from the hopper into the feed pipe and pushing the product into the nozzle."
For Broad Oak, which packages around 500 different SKUs ranging from 5ml through to 1 litre in size, another selling point of the Response was its ability to fill a range of products, from alcohol based liquids to lotions and creams into all kinds of containers.
Because the fillers are semi-automatic bench-top machines, there was no installation as such. They are wheeled into position and empty containers are presented to the filling nozzle by hand.
Although slower than Broad Oak's fully automated lines, the semi-automatic fillers are better suited to low volume orders and have resulted in an increase in productivity of about 70%.
"Some of our orders are not very large at all; for example, we might only need 200 units for an individual order," says Shenton. "It makes more sense to use a semi-automatic filler than an automatic line that takes ages to set up only for the run to be finished in 20 minutes." Short runs inevitably mean frequent changeovers and Broad Oak changes products up to three times a day. So, says Shenton, the near tool-less changeover on the Response was an important factor. "I wouldn't say it's a tool-less changeover but you really only need two tools to do it – an Allen key and a spanner – and you're away."
Machinery that limits down-time in this way is always a winner when the quantity of goods moving through the system is measured in tonnes. That is certainly that case at a blue chip worldwide manufacturer of cocoa and chocolate products which recently installed a unique mobile bagging solution designed by UK manufacturer Pacepacker.
The Swiss chocolate producer uses four box packing lines to handle tonnes of chocolate chips each day. When a project arose to pack chocolate chips into sacks, the manufacturer looked to Pacepacker to design a mobile turnkey packing solution that would work in conjunction with its existing equipment.
To meet the manufacturer's specific in-house electrical, plc and mechanical standards, Pacepacker partnered with a number of manufacturers to create a food grade stainless steel line which consisted of a swan necked elevator, a vibratory tray style nett weighing machine with electronic controller (pictured) and specialist confectionery cooling jets, a Pacepacker C21 sack placer and a Pacepacker Total Bag Control (TBC) sack closing system with crepe tape applicator.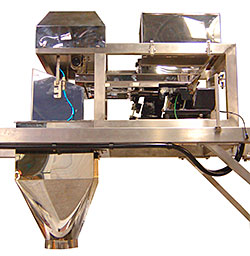 In order to easily pack different types of chocolate chips, the system was built on mobile base frames so that it can be positioned under any of the production lines in order that product is fed into the elevating conveyor instead of a box.
"The single most important principle of the TBC system is that it never lets go of the sack after it has been filled, which ensures that a good quality reliable seal is obtained time after time, even with difficult to handle irregular shaped and sized products," explains Paul Wilkinson, Pacepacker's business development manager.
The turnkey system incorporates Pacepacker's C21 Sack Placer which is designed to reduce operator intervention with a multiple pile magazine conveyor system to pick up and place open mouth sacks onto a filling spout.
The C21 matches the speed of Pacepacker's TBC, which packs the confectionery at a rate of up to 10 bags per minute, and accurately seals even the most difficult to handle sacks to create a consistent premium looking pack and eliminate sack waste.
The equipment we had was really struggling and speeds were down to 40 units per hour
Images: The Lincolnshire filling machine firm has some high profile clients such as Nestle and Cadbury. Gainsborough Engineering's in-house resources can cater for a wide range of requirements in the packaging sector.