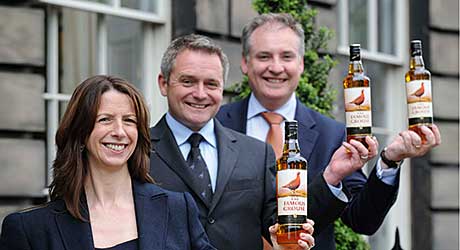 A lightweight whisky bottle was unveiled at the launch of a government plan to slash household and business waste across Scotland.
The Edrington Group revealed its new Famous Grouse bottle on the same day Environment Secretary Richard Lochhead kick-started the Scottish Government's 'Safeguarding Scotland's Resources' consultation.
The programme aims to cut Scotland's total waste by 5% by 2015 and 15% by 2025.
Lochhead believes the proposals could save up to £1.4 billion per year by using raw materials more efficiently and cutting waste.
Edrington's bottle weighs just 340 grams marking a 14% weight reduction previously not thought possible while retaining premium features. The bottle will be rolled out across the UK this winter, saving Edrington an estimated 587 tonnes of glass every year.
Glen Gribbon, director of The Famous Grouse, said: "Edrington is acutely aware of its responsibilities to the environment and is an active participant in efforts by the Scotch Whisky Association to keep its promises and to reduce the impact of packaging on the environment."
Image: Marissa Lippiatt, head of business resource efficiency at Zero Waste Scotland; Glen Gribbon, director of The Famous Grouse; and Richard Lochhead, showcase the innovative bottle.