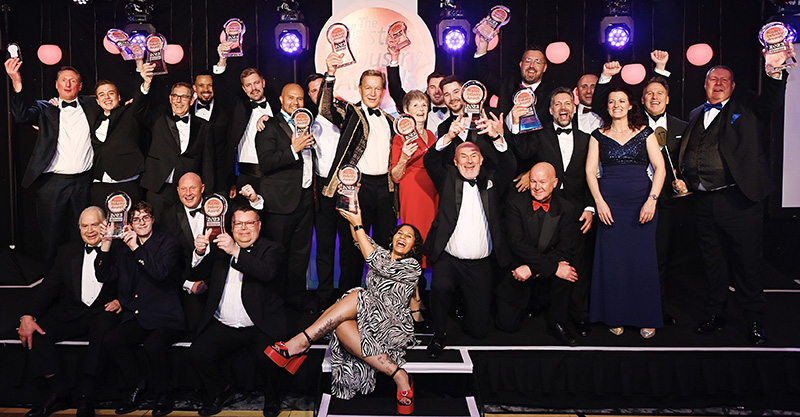 JAGUAR Land Rover was one of the big winners at the Plastics Industry Awards 2023, scooping two prestigious accolades on the night.
Winners were announced at a gala evening at the Intercontinental London Park Lane, presented by comedian, actor and writer Marcus Brigstocke.
The annual awards recognise the ways in which plastics product design, manufacture and recycling contribute to successful and sustainable innovation.
Jaguar Land Rover triumphed in the Best Training and Development Programme category in a collaboration with Engel UK, Resinex, Sumitomo (SHI) Demag and WHS Plastics. Ian Ray, who has pioneered the use of plastics in automotive manufacturing at Jaguar Land Rover for many years, was crowned Plastics Industry Ambassador.
FSW Design took the Best Product Design accolade with its Holewise construction safety cover. The Best Recycled Plastic Product went to Zotefoams for its ReZorce circular packaging, a fully recyclable HDPE mono-material barrier packaging range. The Materials Innovation award went to Denimolite, a new sustainable composite material made from up-cycled waste denim.
The winner of the Rising Star award was announced as Rowan Fletcher of IPL Global. Cody Etchells of Complexa HPE won the Apprentice or Trainee Award and was awarded a £500 prize by the PMMDA. Sally Bailey of Common Sense PR was recognised as the industry's Unsung Hero.
Sustainability Initiative of the Year went to Elite Plastics for its programme of initiatives including solar PV generation, energy efficiency improvements and the increased circular use of materials. Greenback Recycling Technologies won the Best Technology Application for its Enval microwave pyrolysis technology for chemical recycling of hard-to-recycle flexible plastics. Sierra 57 Consult took Best Business Initiative for its online training need assessment tool.
Plastek UK won the Processor of the Year award, which looks at overall company performance across a series of different areas, including business growth, technology innovation, environmental custody and community involvement.
Matt Barber, global events director at organiser Crain Communications, said, "Congratulations to all of this year's winners from across the plastics manufacturing and design industry. The quality of entries was truly outstanding and this year's winners fully deserve this recognition for the innovation, excellence and sustainability they have demonstrated."
The full list of winners was as follows:
Best Product Design
Holewise cover by FSW Design
Best Recycled Plastic Product
ReZorce Circular Packaging by Zotefoams
Rising Star
Rowan Fletcher of IPL Global
Materials Innovation Award
Denimolite
Supplier Partnership – Prime Machinery – sponsored by Interplas
Arburg and Hymid Multi-Shot
Supplier Partnership – Ancillary Machinery – sponsored by PlastikCity
Plastech Solutions (Star Automation, Abate Basilio, bfa) & Corona Packaging
Supplier Partnership – Toolmaker sponsored by HASCO
Adreco Plastics and VENTETE
Apprentice or Trainee Award – Sponsored by Meusburger in association with PMMDA
Cody Etchells of Complexa HPE
Best Technology Application
Greenback Recycling Technologies
Sustainability Initiative – Sponsored by KraussMaffei Group UK
Elite Plastics
Best Business Initiative – Sponsored by Arburg Limited
Sierra 57 Consult
Best Training & Development Programme
Jaguar Land Rover with Engel UK, Resinex, Sumitomo (SHI) Demag and WHS Plastics
Unsung Hero
Sally Bailey of Common Sense PR
Processor Award – sponsored by Engel UK
Plastek UK
Plastics Industry Ambassador
Ian Ray, Jaguar Land Rover