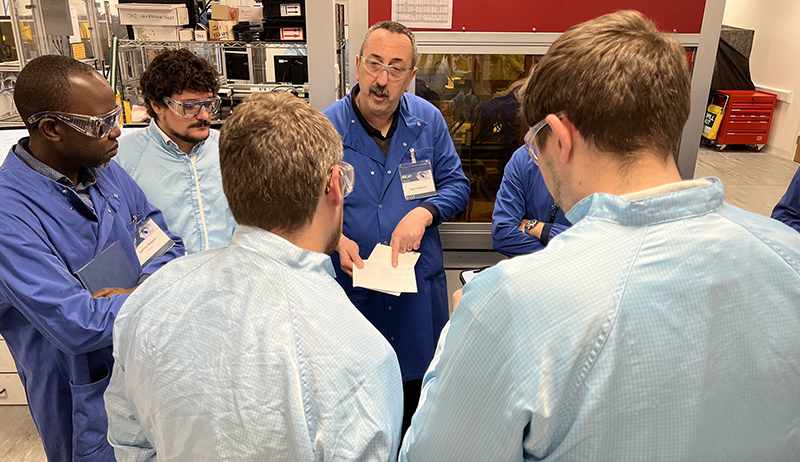 VISITORS to Xaar's recent Open Day & FuturePrint Tech conference in Cambridge were the first to see the results of a study into jetting high viscosity water-based inks.
The research was conducted by Dr Chris Phillips and Professor Davide Deganello at the Welsh Centre for Printing and Coating, Swansea University.
During the Open Day, Dr Phillips provided independent evidence of the results of jetting higher viscosity inks when compared to 'conventional' viscosities on both coated and uncoated substrates.
Using the Xaar Aquinox printhead and cyan water-based inks by Nazdar, the research team showed several advantages to printing high viscosity fluids, which is enabled by Xaar's Ultra High Viscosity Technology. Measured colour densities were seen to be up to 60% higher.
Xaar added that its printhead technology capabilities meant the higher viscosity sample saw the same printing outcome with less ink, offering sustainability benefits through reducing the volume of ink required and the energy needed in drying.
Two ink sets were tested, one with a higher pigment loading, and both high and conventional viscosity inks in each ink set had a fixed pigment to binder ratio to enable a fair comparison. This, Xaar added, demonstrated that viscosity was the key enabler to the improved colour results rather than the pigment loading.
The lower amount of water in the higher viscosity inks meant less absorption into the substrate, delivering the enhanced colour impact without the need for more pigment.
The trials on the non-coated board showed that by using Ultra High Viscosity to enable a higher pigment load than is usually possible, a 'far higher' colour density is achieved. This opens up the possibility of removing the primer when printing onto cardboard.
Xaar's group R&D director, Karl Forbes presented the results as part of his talk titled, 'Seeing is believing' at FuturePrint Tech's 'Digital Print for Manufacturing' conference. Commenting on the week's events he said, "Visitors heard how Xaar's inkjet is enabling the development of new fluids and providing access to the many potential benefits of digital printing. This independent research from Swansea University shows the impact that high viscosity inks can have in traditional print applications with Xaar's Ultra High Viscosity Technology.
"By improving print quality at higher speeds with less ink and energy required, the ability to jet a wide range of high viscosity, high particle loaded fluids is driving change on many levels."