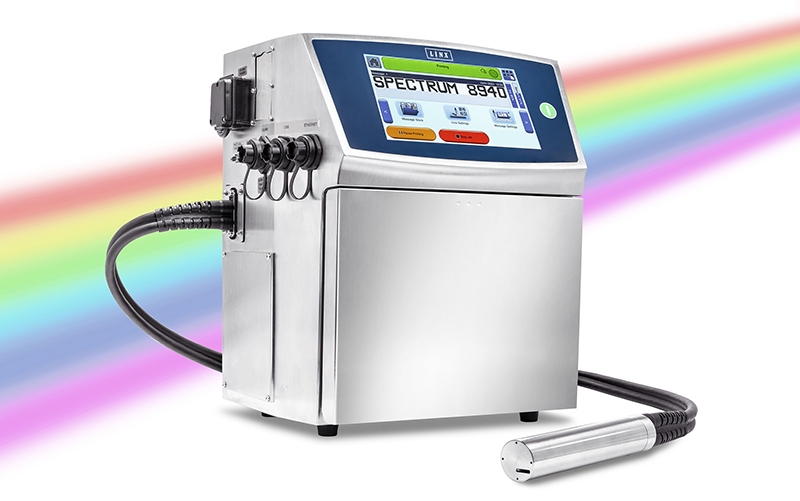 LINX Printing Technologies has launched the Linx 8000 Series Spectrum CIJ printer, described as 'revolutionising' pigmented ink printing.
The coding and marking specialist said the solution has been designed to deliver 'high performance and high contrast' marking of white and light-coloured inks onto surfaces such as plastic cabling, extruded products, and coloured glass. The new Spectrum is said to print at line speeds of up to 10 metres per second in 'challenging' environments.
The Spectrum carries extended service intervals of up to 8,000 hours or 12 months across a range of hard-pigmented inks.
The patent-pending PureFlow filtration system is said to ensure opaque print and a cleaner nozzle for 'consistent, high-quality' printing onto every product, while requiring only weekly printhead cleanings. Another feature is the patent-pending Vortex system, designed to disperse any settled heavy pigment.
Linx's AutoFlush automatic cleaning sequence eliminates the need for printer flushing.
The Spectrum incorporates features tailored for cable and wire applications including the live editing of customisable messages while printing, rollback detection and accurate metre marking.
"By seamlessly combining all our proven technologies and innovations into this truly revolutionary printer, the new Spectrum demonstrates our commitment to driving the future of coding and marking print technology into new and industry specific applications," said Charles Randon, CIJ business unit manager of Linx Printing Technologies. "With its patent-pending design, the Spectrum's technology makes traditionally cumbersome hard-pigmented marking to be as simple and reliable as regular CIJ dye-based printing.
"Printing highly visible codes for wires, cables and extruded products with reliability and without the daily maintenance has never been more achievable."