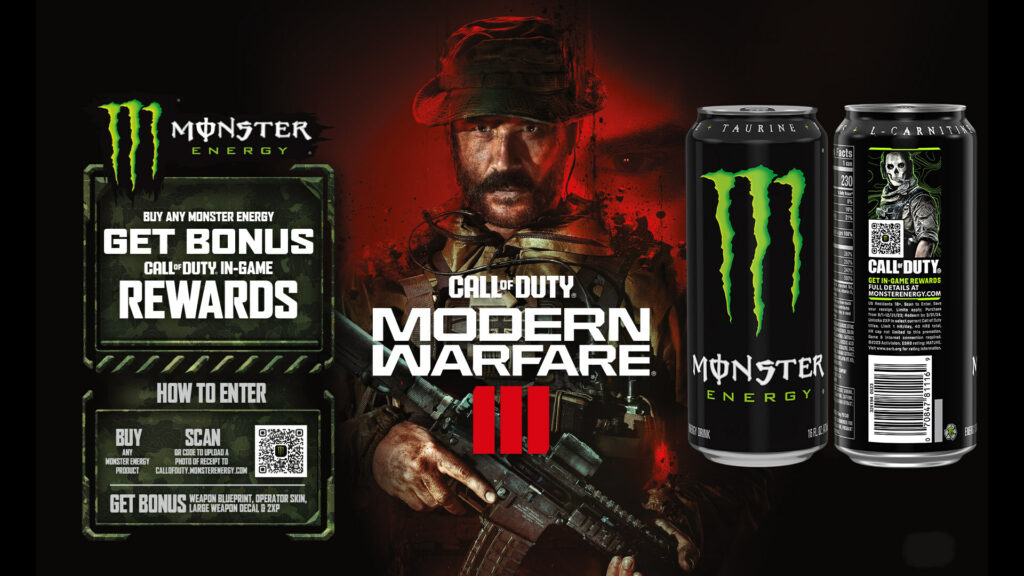 LIMITED edition cans of Monster Energy are set to launch as part of the brand's partnership with the video game, Call of Duty.
From September 18 until the end of the year, the new promotion will run across Monster Original, Zero Sugar, and Ultra.
The cans will feature QR codes which, once scanned, will earn gamers 10 minutes' worth of double experience points, which Monster Energy said will allow players to advance more quickly in Call of Duty by progressing up levels faster than their opponents.
The packs feature images of the 'popular' Call of Duty character, Ghost, which Monster Energy said is hoped to drive standout qualities on-shelf, as well as creating 'theatre' in store.
To maximise awareness of of the on-pack activity, Monster Energy will use its roster of gaming influencers on Twitch and Youtube, as well as running several 'high-profile' media partnerships, throughout the promotional period.
Pippa Foster, associate director of commercial development at Coca-Cola Europacific Partners GB, which produces Monster Energy, said, "Like Monster, Call of Duty is a powerhouse in its category, and there are real synergies between their loyal fanbases. It's a recipe for success and has delivered impressive results in the past.
"Our Monster fans expect high impact, unmissable experiences, as well as exclusive gaming prizes and that's exactly what we're delivering. Monster growth is showing no signs of slowing down and we're encouraging retailers to get on board and take full advantage of this promotion as we bring together these two iconic brands once again."