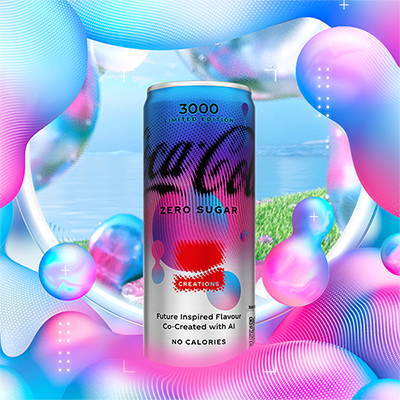 A limited edition version of Coca-Cola has launched in packaging co-designed by artificial intelligence (AI).
Coca-Cola 3000 Zero Sugar, which also had its flavour co-created by AI, comes in a 'futuristic' packaging design which includes 'colourful', 'bright', and 'optimistic' tones.
The design showcases liquid in a morphing, evolving state, which Coca-Cola said is communicated through form and colour change that emphasise a positive future, with AI being used to understand how fans envision the future through aspirations, emotions, colours, and flavours.
Furthermore, the cans feature QR codes which will take consumers to an exclusive website which will give them a glimpse into what the year 3000 will be like, based on AI predictions.
Oana Vlad, senior director of global strategy at Coca-Cola, said, "Our ambition for Coca‑Cola Creations is to create unexpected and magical moments for our fans. Inspired by the timelessness of Coca‑Cola, we want to celebrate everyone's idea of what the future might look like.
"With the help of AI-powered technology, Coca‑Cola 3000 Zero Sugar imagines how a Coca‑Cola from the future could taste and introduces innovative experiences to explore the future."