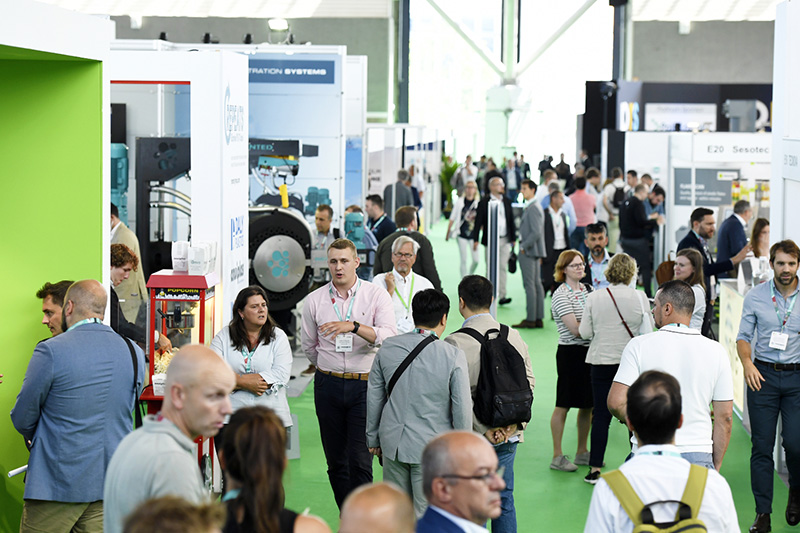 FINAL preparations are underway for The Plastics Recycling Show Europe exhibition and conference, taking place at the RAI Amsterdam from May 10-11.
Organisers are anticipating thousands of professionals involved in plastics recycling and the sustainable use of plastics to attend the event, which is set to be more than 50% bigger than ever before this year with over 320 exhibitors and more than 60 expert speakers lined up.
The exhibition will provide an opportunity to showcase the latest technology, share best practice, network and do business. A broad cross-section of the industry is represented including plastics recycling machinery and equipment suppliers, plastic material suppliers and compounders, pre-processors, mechanical and chemical plastics recyclers, waste management specialists and industry associations. A new chemical recycling feature area will guide visitors through the history of and latest innovations in chemical recycling.
All 47 finalists of the Plastics Recycling Awards Europe 2023 will be featured in a dedicated area, while the winners of this year's seven awards categories will be announced on the second day of the show. All the shortlisted products and projects are made in Europe and contain a minimum of 50% recycled plastics.
PRSE highlights are tipped to include:
CIRCPACK by Veolia will launch its interactive ReCoRe-platform, an online portal that offers recycling country reports on packaging for 69 countries across the globe.
ML Polyolefins will introduce a new polypropylene, designed for improved processing properties and mould filling.
Green Dot will present innovations made from up to 100% Systalen recyclates, including a new generation of ink erasers and shrink foil for product bundles.
New from Avient Corporation is its ColorMatrix Ultimate UV390R ultraviolet (UV) absorbing additive technology, suitable for both virgin and recycled polyethylene terephthalate (rPET).
AMP Robotics is showcasing AMP Vortex, described as the industry's first AI-powered automation system for film removal and recovery in MRF environments.
The latest innovations from Piovan Group are its Odor Minder and C-90 DeDuster. Odor Minder is said to give an instant qualitative evaluation of the effectiveness of the odour removal process from treated granules. C-90 DeDuster removes dust, streamers or angel from pellet surfaces.
REPI's latest StabiPlus: additive is designed to act as a stabiliser that prevents r-PET from ageing and discoloration.
Gneuss is showcasing its new OMNI Recycling Systems for closed loop recycling of PET, PS and polyolefin.
Scientists at the Fraunhofer Institute for Structural Durability and System Reliability LBF will present the results of its latest research project covering a new environmentally friendly process on a lab scale to remove odours from plastic packaging.
Innovations from Borealis will include its Ecoplast and mtm post-consumer recyclate (PCR) solutions, and product lines based on Borcycle M advanced mechanical recycling, and Borcycle C chemically recycled feedstock.
Product innovations on display from Baerlocher will include its Baeropol T-Blend product range and its proprietary Baeropol RST stabilizer.
Nordson will be showing the new Nordson BKG HiCon K-SWE-HD/RS melt filter for blown films applications.
POLICYCLE, the newly founded company in the POLFILM group, will be showcasing its focus on establishing material cycles for polyethylene-based films with partners and customers.
Powered by artificial intelligence, the new Bollegraaf Analyzer offers real-time compositional analysis of an MRF waste stream.
Taking place in two theatres for the first time this year, the free-to-attend PRSE conference will feature expert speakers representing major brands including Bostik, Colgate, Deceuninck, Electrolux, Procter & Gamble, and Ford Otosan.
Vivianne Heijnen, minister for the environment in the government of the Netherlands is the keynote speaker for the opening session entitled Plastics Recycling in Europe – paving the way towards circularity.
As well as the latest political and legislative developments in plastics recycling in Europe, conference sessions will cover design for recycling; chemical recycling; global market factors; and traceability, transparency and trust in plastics recycling.
Materials focus sessions will explore the challenges, issues and opportunities within the sector for mechanical recycling, covering PET, PVC and Technical Plastics, polyolefin waste streams and polypropylene (PP) recycling.