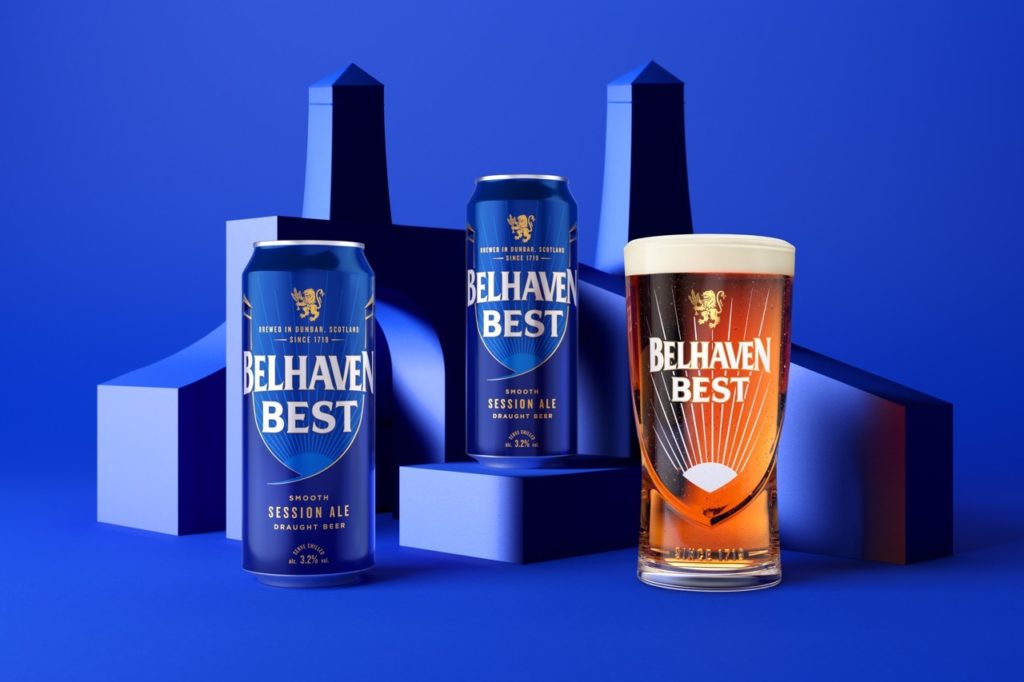 SCOTTISH beer brand Belhaven Best has unveiled a new look described as celebrating over 300 years of brewing history.
The design by creative agency Thirst is designed to showcase the brand's 'authentic provenance'. Belhaven has produced beers at its Dunbar home since 1719.
The centrepiece is a barley sheaf with outstretched awns doubling as sunbeams framed by the two famous chimneys of the original Belhaven brewery. The image is a nod to the ancient malting process that goes into creating the ale, as well as a reference to the brewery's coastal home – known colloquially as 'sunny Dunny'.
An 'ownable' deep blue provides the base colour in a three-tone palette – also including a lighter blue and gold. The Belhaven Best brand icon – a rampant lion – has undergone an evolution, now with 'bolder' depth and detail visible at both large and small scale.
The new designs will feature on widget cans for at home consumption as well as on bespoke fonts and glassware initially in more than 100 pubs and bars across Scotland. The glassware draws on the existing Belhaven half pint glass with a sculpted outline of the chimneys informing its shape. Provenance is said to be again reflected in an embossed 'Brewed in Dunbar' message wrapping its circumference.
"Our aim was to put the heart and soul back into Belhaven Best," explained Thirst Executive creative director Matt Burns. "Belhaven is determined to reach new audiences, and particularly those who appreciate tradition while celebrating progress. That's why it was so important for the visual identity to play a role in telling the brand story – from the pride in the elevated lion brand icon to the optimistic outlook in the sunshine and heritage in the barley and brewery.
"We have created a design that is now unmistakably Belhaven, and truly brings out the best in a brand at the heart of Scotland's brewing heritage."
Belhaven brand manager Fiona Matheson added, "Belhaven's success over the past 300 years is built on creating exceptional quality beers, but also on our ability to respond to the changing tastes of modern drinkers. Best is as popular as ever and is currently gaining in market share, but we felt that it deserved better when it came to its presentation. We also wanted to challenge the old-fashioned image of ale and communicate its freshness.
"This has been a labour of love that the Belhaven team has worked on with Thirst for many months and we are thrilled with the results. The new design looks stunning, premium and appealing, perfectly balancing Best's past and our ambition for the future, whilst reflecting the wonderful qualities of the ale inside."