CARTON manufacturer Falconer has produced limited-edition packs to mark the 10th anniversary of Trooper, the award-winning beer produced in collaboration between music icons Iron Maiden and Stockport-based Robinsons Brewery.
The beer, which also celebrates the achievement of over 35 million Trooper pints sold worldwide, is a new 10% ABV Trooper X Imperial Stout created by Iron Maiden frontman Bruce Dickinson and the Robinsons team. The carton artwork was conceived by Iron Maiden's long-standing designer, Stuart Crouch.
To accommodate the 600ml highly decorated bottle, Falconer explained the carton needed to be 'robust'. For the material, CrownBoard Prestige with a metalised face was used. Opaque white subdued the non-foil areas and two tones of grey were added – a dark grey for the background onto which Trooper skulls were inset in a lighter grey.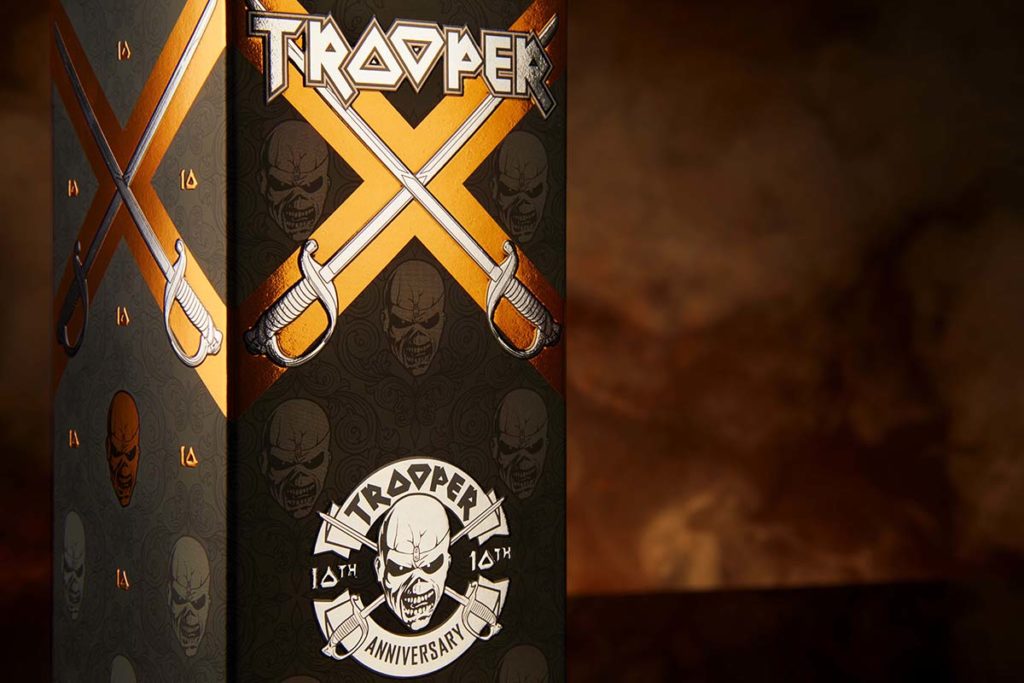 The copper foil effect was matched to the labels, while all non-metallic areas had a matt varnish applied, with the silver and copper foil areas being accentuated with a gloss varnish. To finish the design, a multi-level emboss was used to lift the swords and the Trooper logo. To maintain the premium feel of the carton, Falconer said the finished design has no visible raw edges throughout.
Dean Etchells, Robinsons' Trooper brand manager, said, "The cartons fully exceed our expectations, with the quality, premium feel and attention to detail really making the carton stand out.  Plus, the service levels from the Falconer team were exceptional throughout."
Falconer's Colin Pow added, "We really felt we could add value to the carton as the client was open to ideas. It was also very exciting to produce work for an amazing band and brewery. The initial meetings were very creative with all parties striving for perfection. Overall it was an exciting project as we were allowed to influence the finished packaging to give the carton maximum shelf appeal."