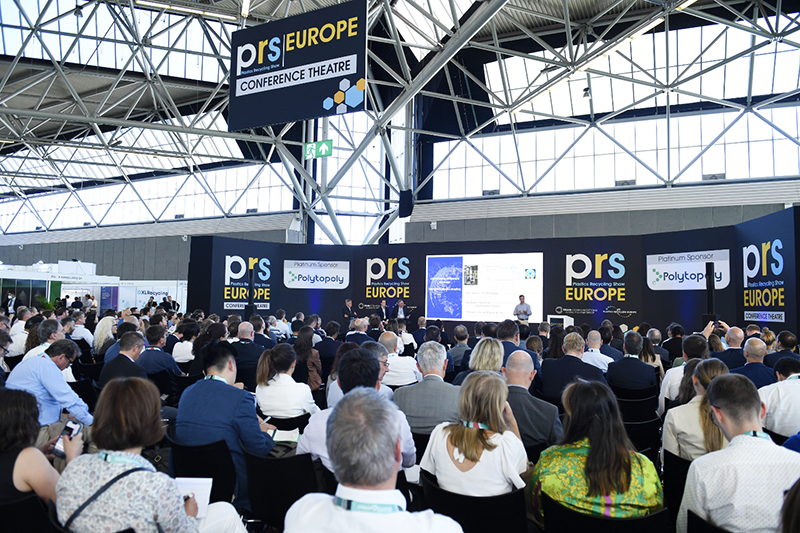 THE full conference programme has been released for the Plastics Recycling Show Europe, which takes place at RAI Amsterdam from May 10-11.
More than 60 speakers across two theatres will discuss the latest developments in plastics recycling, drawing together political leaders, major brands, and the plastics recycling and manufacturing industry.
Vivianne Heijnen, minister for the environment in the Netherlands government, will be the keynote speaker for the opening session entitled Plastics Recycling in Europe – paving the way towards circularity. Ton Emans, president of Plastics Recyclers Europe, will chair this session looking at the latest political and legislative developments in plastics recycling. Joining them will be Wolfgang Trunk (economic analyst – legislation, DG Environment at the European Commission) and Lena Stig (scientific officer at the Swedish Environmental Protection Agency).
Speakers confirmed for a session looking at Design Matters: Recyclability is the first step toward circularity include Johannes Daae (head of development at Gront Punkt), Scott Trenor (technical director at the Association of Post Consumer Plastics Recyclers), and Fabrizio Di Gregorio (technical director at Plastics Recyclers Europe).
The materials focus sessions will explore challenges, issues and opportunities within the sector for mechanical recycling, covering PET, PVC and Technical Plastics, polyolefin waste streams and polypropylene (PP) recycling. Representatives of major brands participating in these sessions include those from Alpla, Electrolux, Ford Otosan, Berry and Valdelia.
Sven Saura (VP, solid waste recycling at Veolia) will present a future market outlook for chemical recycling, along with Jesper van Berkel (PET technology & business manager at Indorama) and Lia Voermans (director innovation strategy at Brightland Chemelot Campus). A panel discussion on technological developments in chemical recycling will be organised with representatives from Ghent University, NextChem and Mura Technology.
Samuele Furfari (professor of geopolitics and energy policy at ESCP London) joins the session looking at The push and pull factors impacting the market: working towards a carbon-neutral Europe, alongside Paulina Brzezicka (advisor innovation & digital finance advisory at European Investment Bank), Gian de Belder (technical director – R&D packaging sustainability at Procter & Gamble) and his colleague Adam Selby (purchases director – global resins & sustainability). Tom Hesselink (partner strategy – deal & growth at KPMG) will present From waste to commodity.
Speakers examining the issues of Traceability. Transparency. Trust of Recycled Plastic include Adrian Sen (packaging sustainability and innovation manager at Colgate), Lena Lundberg (public affairs and regulatory director at Trioworld), and Mireia Boada (project manager at Plastics Recyclers Europe).
PRSE event sponsors will also present on a range of innovations in plastics recycling technology and the wider circular economy including:
Recycling market standardization myth or reality? by Edouard Garreau, co-founder of Platinum sponsor Poly to Poly.
How to close the recycling gap together? Latest circular plastics technologies and solutions by Dr. Jens Hamprecht, director global plastics steering committee at BASF SE and Adrian Vogel, business development manager at trinamiX GmbH
Advanced Recycling: Providing a Sustainable Solution by Oliver Borek, chief commercial officer at MURA Technology
Enable full circularity for plastics through innovation and partnerships by Reinier de Graaf, director feedstock strategy Europe at Eastman
Finger on the PULSE – Chemical Recycling at Neste by Outi Teräs head of technology commercialisation for chemical recycling at Neste
Innovations for a new era of recycling by Manfred Hackl, CEO EREMA Group GmbH
Increasing efficiency in flake-sorting applications by Alberto Piovesan, segment manager plastics at TOMRA Recycling
 Filtration in rPET spinning – How BBE's inline filter cleaning system brings efficiency and ecology into rPET finefiltration by Matthias Schmitz, head of engineering recycling technology at BB Engineering GmbH
Innovative Block Copolymer Solutions to Enhance Sustainability and Circular Economy by Freddy Vervoot, senior scientist at Kraton Polymers
Waste Plastics Advanced Recycling Solutions – Pathway to True Circularity by Stephane Fedou, director plastic circular economy at Axens
Additives enabling the circular economy – a case study in PET and polyolefins by Jeroen Frederix, market development manager – circular economy at SI Group
The Plastics Recycling Show Europe is designed for plastics recycling professionals and all those engaged in the sustainable use of plastics.