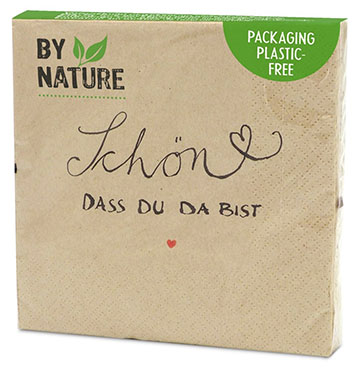 TABLE decoration product specialist Braun + Company is utilising a renewable and compostable film to protect its napkins as part of the firm's sustainability drive.
The NatureFlex cellulosic film that is now used to wrap these products is produced by Futamura. Both product and wrapper are cellulose-based and both are derived from responsibly managed plantations (FSC or PEFC-certified).
Not only is the transparent NatureFlex film renewable, it also satisfies global standards for industrial composting, including EN13432. The material is certified home compostable, to the OK Compost Home standard for backyard composting. This means the film can be composted at home or industrially composted, where facilities exist.
Matthias Dächert, MD at Braun + Company, said, "Our change of packaging for the BY NATURE napkins product range is another example to our commitment to sustainability and our desire to use cellulose-based materials from sustainable sources. The NatureFlex films fills this brief and provide the protection that our product requires."
Joachim Janz, regional sales manager at Futamura, added, "It was a pleasure to work with Braun + Company to qualify our NatureFlex film. Wrapping a cellulose-based product in a cellulose-based wrapper, makes perfect sense. At the same time, our NatureFlex films enable the important see-through for the design identification and also provide an end of life option for the wrapper."