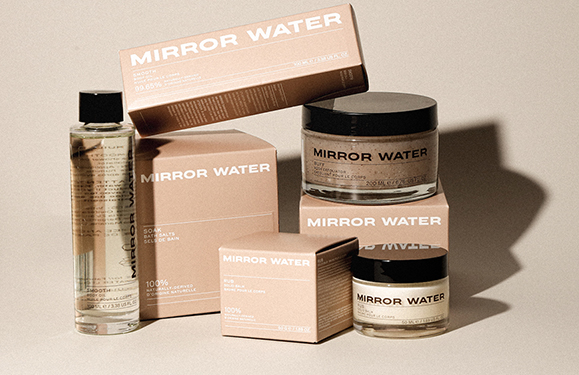 CARTON manufacturer Falconer has revealed details of its project to design and produce new secondary packaging for body care brand MIRROR WATER.
Created to package the firm's four body care products, Falconer explained that the 'luxurious and modern' boxes complement the brand's ethos and aesthetic identity.
Falconer was tasked with designing and creating four different-sized cartons. The firm used the single coated reverse side of Incada Silk with a matt varnish to produce an 'aesthetically pleasing earthy colour'. A bevelled emboss on the front of the cartons added product detail.
In construction, all four boxes followed the same format, including webbed tucks and crash lock bases, with e-flute fitments to protect the glass containers inside.
"Falconer was a recommendation from a fellow beauty brand founder and after an initial meeting, we knew we were in great hands," said Estée Lalonde, MIRROR WATER's founder and CEO. "This was the first time any of us at MIRROR WATER worked on creating secondary box packaging, so we needed a partner that understood that.
"Falconer took the time to explain things to us and help us make decisions based on our needs. Their focus on environmental responsibility and usage of biodegradable materials also meant a lot to us. Our whole team is absolutely thrilled with how the finished packaging turned out – it's sleek and minimal, sophisticated and classic, letting our MIRROR WATER logo and colours shine through."
An initial run of 12,000 cartons were produced, with the products being available via MIRROR WATER's website and in-store at Space NK.
Falconer's Colin Pow added, "We are delighted that Estée and her team are thrilled with the packaging. Working with a new packaging partner to develop brand identity can be daunting, but I'm confident that we have collectively produced product packaging that will align well with customer expectations."