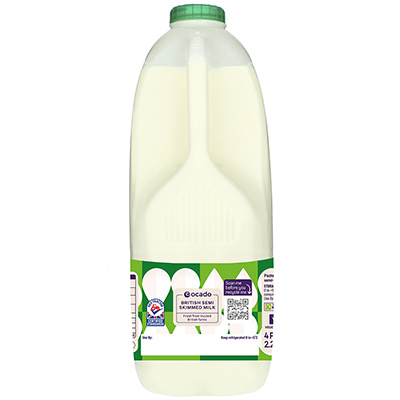 RECYCLING technology business Polytag, label manufacturer Interket, and coding and marking specialist Xact, have teamed up on a project to enable Ocado Retail to deliver a Digital Deposit Return Scheme (DDRS) pilot in the UK.
The trial will test the feasibility of a key component of a DDRS – the application of 'unique-every-time' QR codes to packaging.
Xact and Interket will apply Polytag's codes to Ocado Retail's recyclable two and four-pint milk bottles, made up of at least 30% recycled material, over the course of the next 12 weeks.
Polytag explained that, until now, it has only been possible to print 'unique-every-time' QR codes using digital label printing, at 'significantly reduced speeds and far higher costs'. This new process, developed by Xact and Polytag, means brands and retailers can continue to use standard plate printing label techniques and simply digitise a 16mm x 16mm white space on the label using a proprietary connection to the Polytag solution.
Polytag's 'unique-every-time' QR codes will be printed onto Interket's Ecoket labels, which are manufactured from a minimum of 30% post-consumer recyclate (PCR).
The firm said a DDRS would enable households to scan discarded packaging at home before recycling it and redeem their deposit through a mobile app.
Alice Rackley, CEO of Polytag, said the trial has 'game-changing implications' for recycling in the UK.
David Acott, operations director (UK), Interket, added, "We are delighted that one of our Ecoket range of materials is being used in this ground-breaking trial with exciting implications for the industry. It has been great to work with Polytag's retrofitted technology. It feels like the start of something very special and opens up amazing new opportunities for the label market, brands and retailers."
Chris Jolly, director at Xact, commented, "It's fantastic to be involved in such a pioneering and creative project. Xact has over 40 years' industry experience, and we are proud that our GS1 compliant coding, traceability and software solutions are helping to enable this ground-breaking and ethical process. We have partnered with Polytag on this project since its infancy in 2017 and remain excited for the future and the endless possibilities that could change the face of recycling."