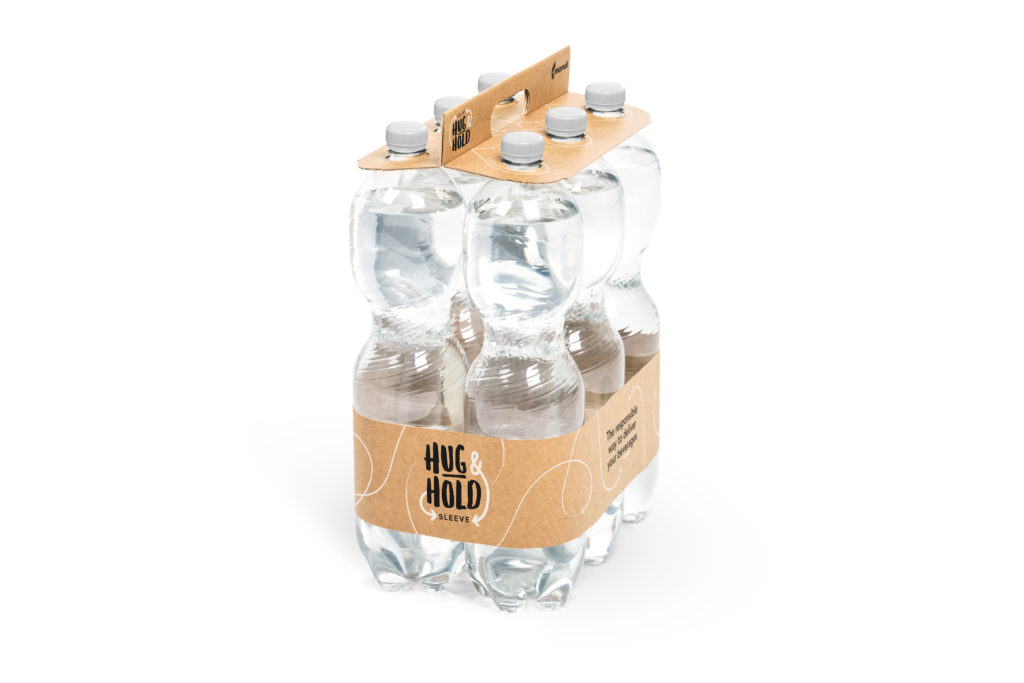 MONDI has announced the launch of Hug&Hold, describing it as a 'recyclable, paper-based solution' to replace plastic shrink wrap for PET bottle bundle packs.
Hug&Hold contains a patent-pending sleeve made of 100% kraft paper that wraps around the bottles to hold them securely. Made from Advantage SpringPack Plus, Mondi said it offers 'high tensile strength' and can withstand enough weight to strap and stabilise the bottles during transportation.
The product also features a corrugated clip which holds the bottles around the neck. Mondi revealed an optional integrated handle means a bundle of bottles can be carried and transported 'easily'.
The Mondi team worked with Krones, a specialist in packaging automation technology, to ensure Hug&Hold can pack bottles in a fully automated process with the latest Krones' machines.
Silvia Hanzelova, sales director specialty Kraft pPaper at Mondi, said, "Leveraging Mondi's team of kraft paper and corrugated specialists, we were able to develop a fully paper-based solution with minimal material usage. Following thorough testing with Krones and a global beverage brand, Hug&Hold has been confirmed in terms of runability and viability."
Tarik Aniba, sales & marketing director corrugated solutions at Mondi, added, "The evolution of secondary transport packaging is just what the global drinks industry needs as it looks to the future. A sustainable, functional and fully automated alternative to plastic shrink wrap means that brand owners can safely switch to a recyclable paper-based packaging solution, without any risk to their product or logistics."
Hug&Hold is available for 0.5l to 1.5l PET bottles in bundles of six or four. The solution will be presented at the Krones booth at the Drinktec fair in Munich this week.