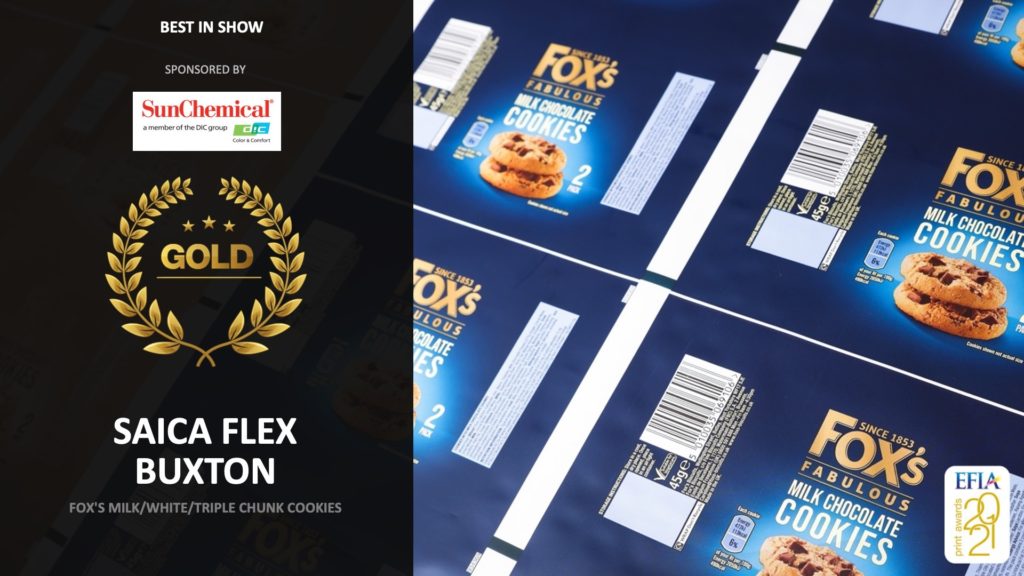 SAICA Group is celebrating after clinching a whopping seven accolades at the FIA (Flexographic Industry Association) UK Awards 2021.
Pride of place went to Saica Flex Buxton, which scooped Best in Show for its Flexo Print on Film Surface Print (Wide Web) solution for Fox's Fabulous twin pack cookies milk/white/triple chunk flavours.
The design was a composite print, printing three designs side by side on the same set of plates using four process colours, a spot brown and a matt cold seal release lacquer.
The FIA UK Awards were celebrated at an annual gala dinner.
Miguel Angel Martinez, commercial & marketing director, Saica Pack, and commercial plan project director, Saica Flex, said, "We are extremely proud of all our winners and everyone who contributed to them from the sales and customer service teams to operational staff and, of course, our amazing customers. These awards demonstrate that we remain at the very top of the flexographic print industry."
The full list of awards for Saica was as follows:
Best in Show – Saica Flex Buxton, Flexo Print on Film Surface (Wide Web) for Fox's Fabulous twin pack cookies milk/white/triple choc flavours.
Gold – Saica Flex Buxton, Flexo Print on Film Surface (Wide Web) for Fox's Fabulous twin pack cookies milk/white/triple choc flavours.
Gold – Saica Pack Ashbourne, Corrugated Folder Gluer Coated for Tayto Variety Christmas 2020
Silver – Saica Flex Buxton, Flexo Print on Film Surface (Wide Web) for Fox's Fabulous half-coated milk chocolate cookies
Silver – Saica Flex Buxton, Flexo Reverse Print on Film (Wide Web) for Maryland Mint to Be cookies
Bronze – Saica Pack Ashbourne, Corrugated Folder Gluer Coated for Kings Cheese & Onion Merry Christmas Party Box 2020
Highly commended – Saica Pack Scotland, Corrugated Folder Gluer Uncoated, for Secha de la Silva rum