DIGITAL coding specialist Clearmark has announced it is diversifying into the logistics labelling market with the launch of the new ICE Vector Pallet Labelling System.
Described by the company as bringing a new 'high performance, low maintenance' tertiary option to the market, the product is also said to be easy to integrate into existing line and warehouse management systems.
ICE Vector completes Clearmark's coding portfolio, allowing customers to benefit from 'joined-up' coding solutions across their primary, secondary and tertiary operations.
Clearmark explained that 'unique' engineering differentiators makes the ICE Vector a high performance system. These include a climate controlled cabin to ensure consistent print quality; 'robust' long-reach cartesian-style arm to guarantee GS1 specification label placement on all pallet configurations; a dual operator interface for continual working during ribbon/label reel changes; and an intelligent I/O system to 'seamlessly' communicate with highly automated warehouses.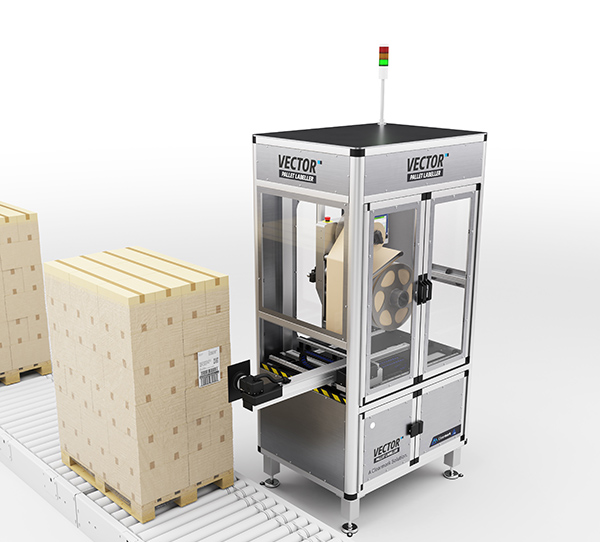 "We have been paving the way for entering the tertiary marketplace ever since we moved into secondary coding with our now flagship product, the ICE Vulcan, in 2014," explained Clearmark's technical MD, Chris Simpson. "Having spent the intervening years building our expertise in print & apply and honing our technology, we have developed a tertiary offering that is unmatched by anything else available on the market today."
The launch of ICE Vector coincides with warehouses accelerating their investment in intelligent automation. As more products flow through supply chains at speed, Clearmark said warehouses need 'smarter, faster, self-reliant systems' to meet demand. The new system vows to deliver an 'attractive' return on investment for any high-throughput operation looking to automate its pallet labelling process from food, beverage and pharmaceutical factories, through to supply chain and logistics.
The product is powered by the ICE Vulcan print engine. With a footprint of 1,125mm x 875mm and operational speeds of up to 100 pallets an hour, Clearmark revealed it can perform up to four label applications per pallet, with two adjacent sides to conform to GS1 specifications for SSCC pallet labelling or three sides for customer specific applications.
A pneumatic guard protects the print engine from dust and environmental conditions, while optimum conditions within the enclosure are maintained via a thermostatically controlled heater,  with the doors only opening at the point when the ICE Vector is ready to label.
With a label arm reach of 650mm out of the enclosure via a 2-axis cartesian guided motion control system, Clearmark added that label placement is 'accurate and repeatable' on a wide range of pallet configurations.
The UK Government's recently announced capital allowance incentive for investments in new machinery and plant is providing further impetus for automation. Between now and March 2023, British manufacturers investing in qualifying plant and machinery assets will be able to benefit from 130% corporate tax relief.
With the introduction of the ICE Vector, Clearmark now has a coding solution for all three packaging types: primary, secondary and tertiary. Primary coding applications are served by the ICE Zodiac Hawk range and the ICE Viper Plus, while the ICE Viper Plus, ICE Vulcan, ICE Torus and Zebra systems address secondary coding.
"We found that customers wanted to buy their pallet labeller from the same company that supplied their case labeller and thermal transfer overprinter – mainly for commonality of parts and operation familiarity," Chris Simpson added.
"It has long been our goal to offer coding solutions for all of these applications, but we had to be sure we could match the performance that Clearmark is known for in primary and secondary coding applications. With the ICE Vector, we believe we have achieved exactly that."