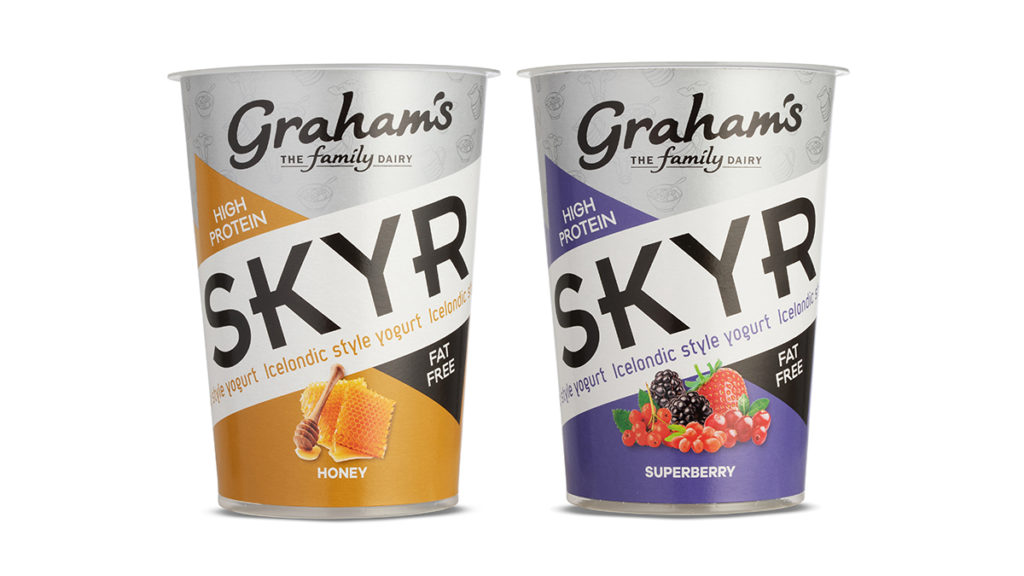 GRAHAM'S, The Family Dairy, has made its Skyr yoghurt cups more sustainable after teaming up with Greiner Packaging.
Greiner has been supplying Graham's with packaging for almost 10 years. In 2017, it helped the firm launch its 190g Protein 22 cups, packed at the dairy's Fife site. In 2020, Greiner supplied around 40% of Graham's required volume of cups.
At the end of last year, Greiner said it stepped in when another supplier was unable to fulfil an order for cups for Graham's Skyr line. The end result was Graham's adopting the new K3 cardboard-thermoformed plastic solution for its 450g Skyr range to replace the existing in-mold label (IML) product.
Within 48 hours of receiving the call from Graham's, Greiner revealed its the artwork department had amended files for what was formerly an IML cup into a direct-print cup for a stop-gap, until the new K3 cup could be produced.
Emma Roy, marketing manager at Graham's, The Family Dairy, said, "Working with Greiner Packaging was exciting, as we turned a problem around in just one week through an innovative, low carbon solution. Replacing our existing IML cups with thermoformed for our Skyr product line brought many immediate benefits, reduced waste through recycling, and increased factory efficiency by improving speed on the packaging line.
"Moving to K3 will deliver a 58.4% reduction in plastic – saving an estimated 39 tonnes of plastic a year. In addition, we now have the continued opportunity to respond to our customers interest in sustainability and run promotions with the additional space that the inside of the K3 sleeve provides."
The K3 cardboard-plastic combination is recyclable as the outer cardboard wrap can be removed and separated. Graham's, The Family Dairy is planning to use the printable reverse of the wrap to share the details of its sustainability journey and offer cross-promotions.
Greiner Packaging revealed it will soon be able to reduce CO2 emissions of 450g Skyr cups further, by introducing recycled PET (rPET) material, allowing them to have 100% recycled content in Skyr packaging.