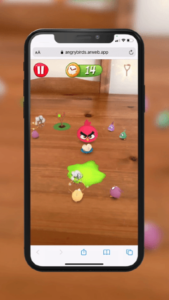 BURGER King has partnered with the creators of Angry Birds to bring augmented reality to customers.
The collaboration will see the fast food giant utilise Rovio Entertainment's technology to connect the physical world with the digital world of Angry Birds – the popular mobile game, which first launched in 2009 and hit 500 million downloads by 2011.
By scanning a QR code on the packaging of kids' meals, customers will see 3D eggs appear in the real world via their mobile phone screen – waves of 'Hatchlings' will appear and attempt to steal the eggs, with the players having to defend them by tapping on the Hatchlings.
Katri Chacona, director of brand licensing at Rovio Entertainment, said, "We're thrilled to partner with Zappar and Burger King to create this unique AR experience for Angry Birds fans. The accessibility of WebAR and wide availability across thousands of Burger King restaurants make this an incredible opportunity to connect with consumers in new ways."