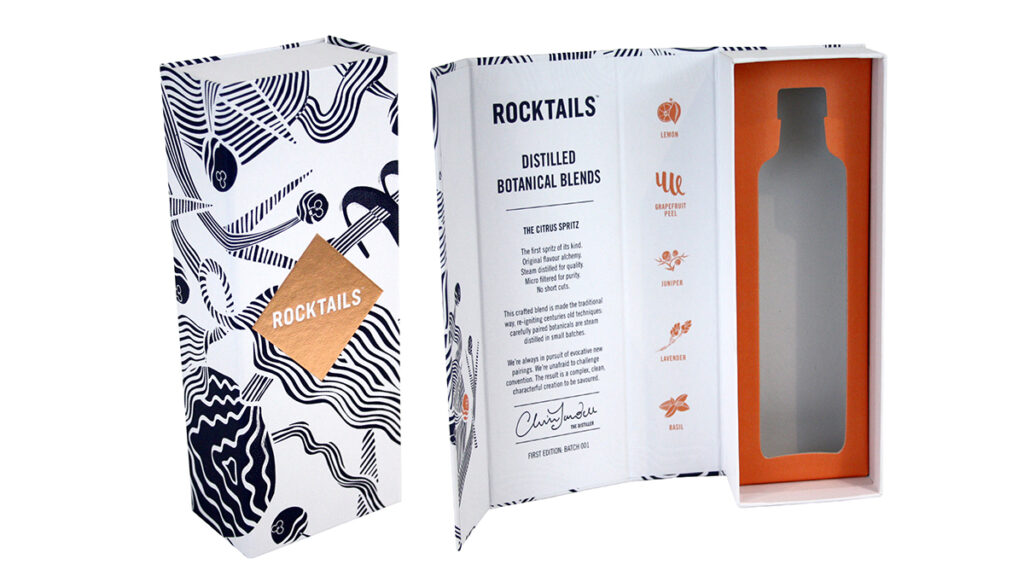 Premium spirits packaging can incorporate many sustainable benefits – but that is not a new phenomenon, explains Tan Mahal, creative designer at Pollard Boxes
ENVIRONMENTAL concerns inform nearly every part of our daily lives, both as businesses and consumers.
For companies, being seen to be embracing environmental initiatives is no longer a 'nice to have' option – as consumers, we expect our favourite products and brands to have sustainability as a key part of their offer.
The luxury packaging sector is the latest to come under the environmental spotlight. Historically, conveying brand image and establishing on-shelf impact and appeal were the top priorities for high-cost items. However, more recently there has been a notable shift in thinking, and for top brands, ensuring that any solution is as sustainable as possible has now become top of the 'must have' list in any new briefing. 
And yet… when it comes to the production of presentation packs for spirits and many other premium items, the fibreboard that makes up the bulk of the box is already produced using 100% post-consumer recycled cardboard waste. More to the point, this is exactly the same as it was 30 years ago. Back then, however, the idea that PCR was being used in the production of a 'luxury' pack was not something that the industry was encouraged to shout about!
Clearly attitudes have changed considerably over this time; but more importantly this shows that, then and now, packaging needs to be designed and produced so that it is fit for purpose. By using PCR cardboard, we can offer luxury boxes with between 1mm and 3mm thick sidewalls, enhancing both the strength and impact of the pack, especially when compared with virgin fibre packs which struggle to offer sidewalls at anything over 0.6mm thickness.
'Environmental benefits' in the production process have a similar practical background.  Today many companies promote their lightweighting initiatives to demonstrate the reduction in the use of materials; but it makes commercial sense always to use the minimum amount of material, while ensuring the final pack can still do what is expected of it.
And that still has to be the critical consideration in the creation of any new pack – that it is able to deliver on packaging's main requirements of protection, preservation and promotion. Sustainability is very important today, but it cannot be the sole criterion. We select PCR for our fibreboard because we can create a box that is sturdy and reliable enough to house an expensive premium drink so that it reaches the end consumer in pristine condition. If it could not do that, it would not matter how 'sustainable' the pack was; it would have failed in its primary purpose.
A luxury spirits pack also needs to 'sell' its product on shelf, so the selection of the right covering paper and the use of specialist decoration are essential to create the necessary impact and appeal. There are two initial considerations – choosing a paper that is suitable for printing, or a specialist paper with a particular finish or effect such as a soft velvet touch or sparkle.
Here there have been developments to take into account the greater requirement for sustainability. While the selection of paper invariably means choosing one made from virgin material, in nearly every case this will have come from sustainable sources and the major of paper suppliers are now FSC (Forest Stewardship Council) accredited.
At Pollards, we have also introduced vegetable-based inks as standard for our printing and in the foiling process, any waste is sent to be reused in the manufacture of products such as cement as part of an industry Zero Foil to Landfill scheme. Other sustainable options that we are able to source include biodegradable film lamination, vegan glues, 100% recycled papers and pulp based (paper, starch or sugarcane) internal fitments.
In selecting a sustainable solution, it is also important to consider where the pack is manufactured. A UK-sourced presentation box will help to minimise a brand's overall carbon footprint in terms of the miles the pack has to travel before it is filled. We are now taking this a step further with the investment in an automated in-line filling solution incorporated into our box making lines. This enables a product to be packed at the same time that its packaging is manufactured, further reducing its carbon impact throughout the supply chain.
For many years, there was a misconception that luxury and sustainability were incompatible, but this has never been the case. This is good news for the spirits industry where, like many other sectors, there is increasing demand for sustainable packaging solutions. In particular, it will ensure that the spectacular designs that are such an important part of the premium branding for these products can continue. Sustainability can still be good looking!