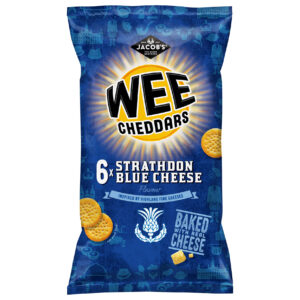 FLAVOURS from across the UK are to be celebrated through the launch of a new trio of limited-edition flavours of Jacob's Mini Cheddars.
The new range features ploughman's Cheshire cheese, Strathdon blue cheese and dragon's breath chilli cheddar. Each of the flavours have their own unique packaging, with the Strathdon blue cheese pack featuring images of Highland cows and thistles, as well being titled 'wee Cheddars' as oppose to 'mini Cheddars'.
The launch comes at a time of a total brand redesign, which will be rolled out across all Jacob's Mini Cheddars packaging. It includes a refreshed brand logo, increased focus on its 'baked with real cheese' message and the addition of more 'warmth, modernity' and food cues. Consumers will be able to recycle the packaging through Pladis', Jacob's parent company, partnership with Terracycle.
Christopher Owen, marketing controller at Pladis, commented, "We're putting a lot of investment into Jacob's Mini Cheddars this year to continue to grow the brand, enabling retailers to benefit from new sales opportunities – and we're really excited to see our latest cheese flavour variants hit shelves.
 "Jacob's Mini Cheddars is already the second most popular brand in the crisps aisle and the second-fastest growing in terms of household penetration (now at 36%). We believe our continued focus on innovation will help accelerate further growth."
"By drawing inspiration from some of the most delicious cheeses from across Great Britain, we're bringing our 'Baked with Real Cheese' message to life, while celebrating some of the best cheese flavours on offer. The result is a trio of snacks which really hit the spot when it comes to taste.
"The findings of strong consumer testing make us feel confident that the range will be well-received by shoppers and these new additions will give consumers, including our target younger audience, a moment of cheeky cheesy pleasure with every bite."