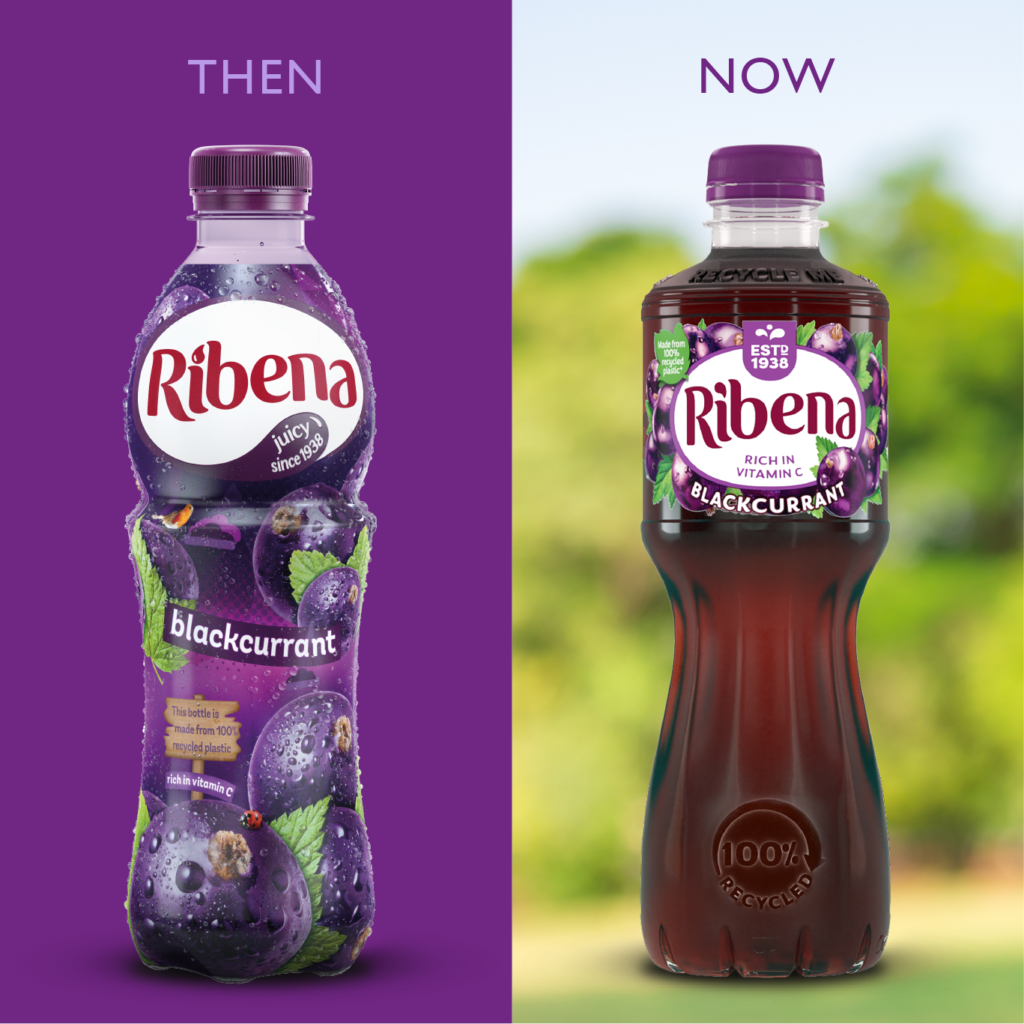 RIBENA has unveiled a new bottle which it says will have the 'optimum' chance of being recycled into another drinks bottle.
To be rolled out this month (November), the new bottle is made from 100% recycled plastic and features a reduction in the plastic sleeve – making it more easily detected as clear plastic to be recycled by existing UK recycling infrastructure.
Ribena said the move has removed 202 tonnes of plastic and is the most significant brand design update in the past decade. The major change was made possible after a two year development programme and investment of £1.6 million in new manufacturing equipment.
The firm also announced that every new Ribena bottle will feature a number of recycling messages embossed on its bottle, as well as featuring on the label – to encourage consumers to recycle. The brand will also include recycling messaging on its advertising and said it will invest six-figure sums to encourage consumers to recycle.
Charlotte Flook, head of brand at Ribena, said, "We want to continue to use the positive power of our iconic brand and our long history of leading the way in sustainability to encourage drinkers to recycle. 67% of shoppers say they have become more aware of the environmental impact of plastic packaging over the last 12 months, and, we're proud to take this huge step forward to ensure everyone's Ribena bottle can be recycled back into bottles.
"We set ourselves incredibly high standards for this design and we didn't settle for anything less than perfect. Consumers told us we're onto a winning design, boasting extremely positive cores across important metrics like environmentally friendly, modernity and naturalness.
"Another significant change is that we are now showcasing Ribena's distinctive liquid which consumers tell us they love. It isn't just the packaging of Ribena that's focused on sustainability, we have a full-time agronomist and partner with the Farming & Wildlife Advisory Group so that each of our growers has a resilient biodiversity plan tailored to the individual habitats at each farm. With 90% of blackcurrants grown in the UK destined to go into Ribena, we wanted to show off this uniquely British asset."