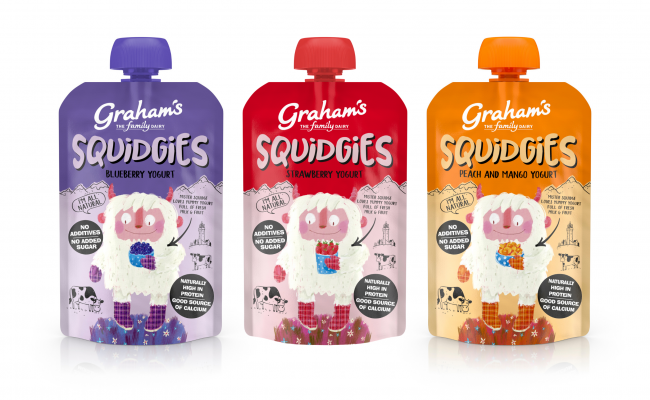 GRAHAM'S has announced the launch of a new kids' yoghurt pouch designed by the children of the family firm's managing director.
Twelve-year-old Douglas Graham designed the pouches alongside his big sister Holly, who also taste approved the strawberry, peach, mango and blueberry flavours.
The pair named the product 'Squidgies'. The friendly monster featured on the packaging, who wears the brand's signature tartan wellies and matching gloves, was drawn by the duo.
Robert Graham, managing director of Graham's, said, "Innovation and product development are something we at Graham's pride ourselves on and this a new product specifically created for children is a first for our family dairy business.
"My children have been asking for some time if they could help develop a yogurt product for kids, so as the original inspiration for Squidgies, they got stuck in from the very beginning of the process. They even worked with our product and design team on flavour combinations and packaging.
"As we endeavour to continue to create delicious and nutritional dairy products for our customers from all over Scotland, as well as the rest of the UK, we hope that everyone enjoys our new yoghurt pouches as much as we do!"