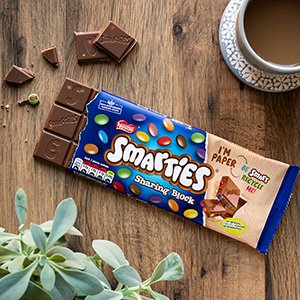 NESTLÉ has completed an 'important' step in moving its Smarties confectionery range to paper packaging by unveiling a new recycled wrapper for its Smarties sharing block.
The packaging is made from a coated paper that is 'widely recyclable', the firm said. Nestlé added that it is the first time that the technology it used to launch its YES! bars – enabling paper to be used on high speed production lines previously designed for plastic or laminate packaging – has been used for such wide scale production.
Richard Watson, business executive officer for Nestlé Confectionery in the UK and Ireland, said, "We have committed to making 100% of our packaging recyclable or reusable by 2025. But we know we need to go further – and we are looking at a range of more sustainable packaging solutions for our confectionery products that can have an impact now.
"Moving the Smarties confectionery range to paper is one demonstration of this intent, and we are very pleased to introduce the Smarties sharing block in a fully recyclable paper wrapper."