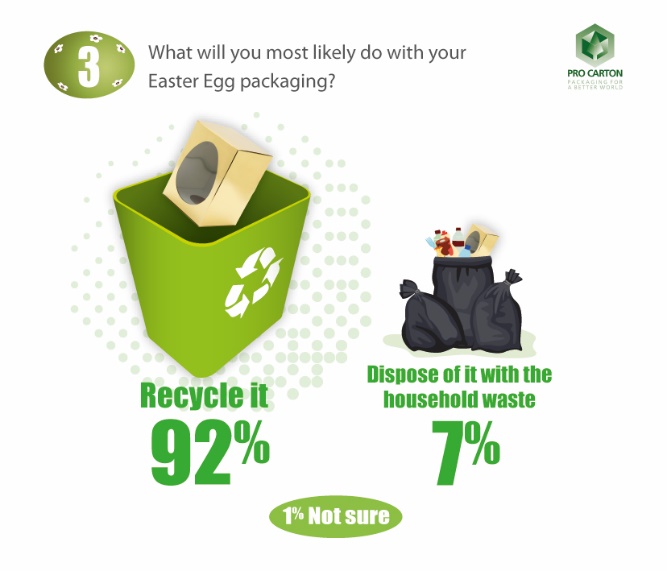 NEW research has revealed 84% of UK consumers are still planning to buy Easter eggs this year despite the national lockdown.
The survey, released by Pro Carton, the European Association of carton and cartonboard manufacturers, found that of those buying eggs, 46% will buy the same amount as they did last year, with 36% claiming they will purchase fewer eggs, and 18% set to buy more.
Due to social distancing guidelines, 16% said they would be leaving the Easter treats on the doorsteps of their loved ones, but only 8% were going to order online.
When consumers were asked what they would do with the packaging, over two thirds (69%) said they would recycle it, while 13% said they would keep it for a while, 9% said they would reuse it with just 7% saying it would go into the general waste bin.
Tony Hitchin, general manager of Pro Carton said, "It's great to see our survey finding that over 90% of Easter egg packaging will be being recycled, reused or kept by the majority of consumers as it's important that we keep recycling as much cartonboard as we can during this unprecedented time, to keep the circular economy going.
"Families with young children are no doubt on the hunt for exciting things to do indoors over the Easter weekend, which is why we've put together interactive cut out activities to do with Easter packaging. which can be downloaded for free.
"We know from last year's survey that 9 out of 10 consumers prefer their Easter eggs in cartonboard packaging. This year the eco-credentials of the packaging is unlikely to be front of mind but we do still encourage consumers to choose cartonboard wherever possible, as it's recyclable, biodegradable and comes from a renewable source."