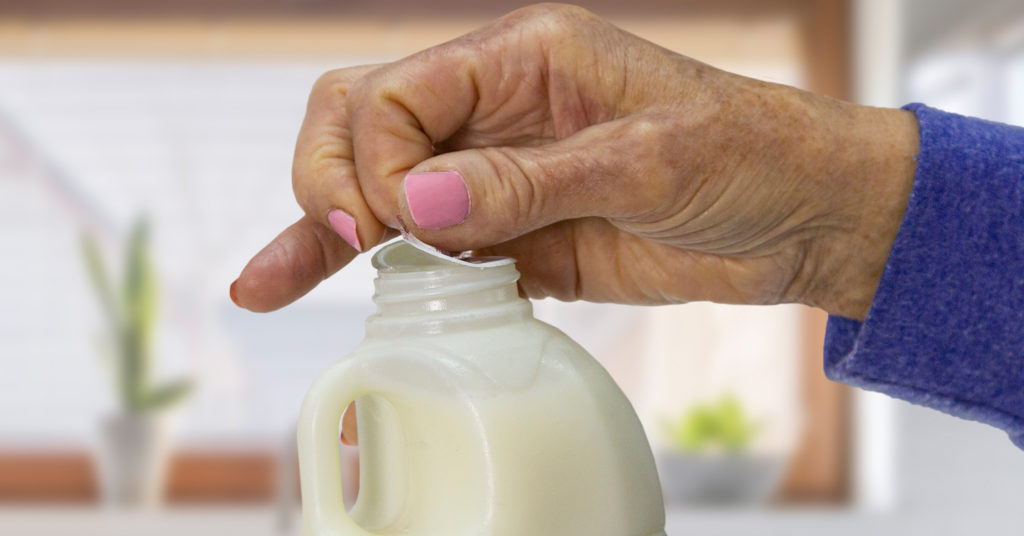 The benefits of leakproof and tamper-proof packaging should not be denied to consumers with limited grip strength. Selig sales director Peter Tindale explains how the right sealing design and technology can ensure inclusivity.
Obstacles to opening
Today there is an increasing demand for food products to be safely sealed, not just to prevent leaks, maintain freshness and maximise shelf life but to guard against malicious tampering. Unfortunately, some approaches to adding extra security can make containers difficult or impossible for people with weakened gripping ability to open. They include tight metal lids applied by steam capping, plastic screw tops with break rings and others which need to be simultaneously pushed down or squeezed while turning.
Physical, visual and cognitive decline can reduce the ability of elderly consumers to overcome such barriers, while lack of grip is a major obstacle for arthritis sufferers of all ages. This is a frustrating and even health-threatening problem for those concerned. Ironically, reliable sealing is even more of a necessity to these people, as lack of mobility makes dealing with leaks more of a problem. 
Effective but easy-to-remove seals are especially important for daily staple items such as milk, and brands which fail to meet this need risk loss of confidence and customers. The implications for brand owners are enormous. Worldwide, more than 350 million people suffer from arthritis. This figure is likely to rise considerably as the global population of older individuals grows. Given that the average age for the onset of arthritis is a little over 45, many workers as well as retired people are affected.
Induction heat sealing solutions
When it comes to fresh milk, today's most popular containers are screw-capped plastic bottles made from HDPE. These are light, convenient, strong, flexible and economical. The most efficient way to seal them, as part of a high-volume production process, is by use of induction heat sealing, otherwise known as induction cap sealing. The seal, placed inside the cap, consists of a layer of aluminium foil laminated onto a polymer material which will bond with the container. On the production line, electromagnetic induction heats the aluminium and the heated seal adheres firmly to the container's rim as it cools. This method is relatively inexpensive and environmentally friendly thanks to its low energy and material consumption, fast action and lightweight end results. Foil seal and liner designs vary in their reliability, which depends largely on their shape and the quality of their polymer layer. Ease of opening also varies, depending on whether a pull tab is provided and what shape, size and structure it presents.
Accessibility guidelines
In 2019, Arthritis New Zealand and Packaging New Zealand published very useful accessibility guidelines on Food Packaging Design. Their document will help those manufacturing or selecting packaging to make products easier to open and use.
Several of its recommendations are relevant to the provision of tabs for easier removal of foil seals. These should be large enough for someone with limited dexterity to grasp and pull, and the force required for seal removal should not exceed 5.0 pounds. The tab's shape and size should allow for pinching between the thumb and knuckle, as many arthritis sufferers are unable to use the standard thumb and finger grip. For this, it should be at least 12mm wide and 20mm long. In addition, the tab should be easily seen and the method for its removal should be obvious. Selig meets these demands with its Lift 'n' Peel induction heat seal liner, whose half-moon-shaped pull tab is now very familiar on milk and pharmaceutical containers, amongst others. When the plastic cap is unscrewed, a large tab sits up to invite gripping and pulling. Wide familiarity is an advantage in itself, as consumers are now well used to removing such seals. They have also proven to be reliably airtight (hermetic) and watertight.
Whatever packaging solution is chosen, there is now more reason than ever to consider the needs of older consumers and arthritis sufferers in its design. Across the globe, literally hundreds of millions of people in those categories could be turning away from brands who fail to respond.