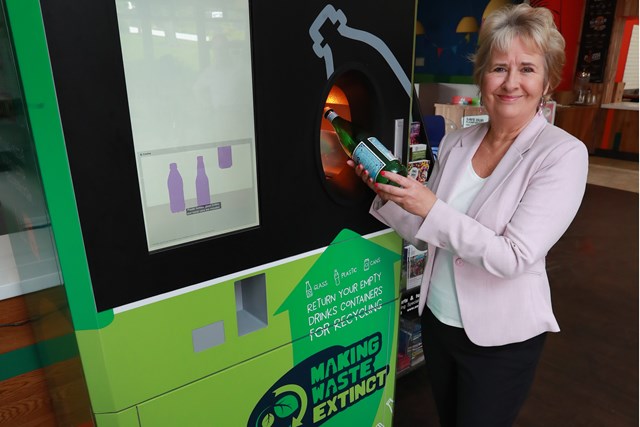 THE Scottish Government has opened a consultation period lasting until 10 December 2019 on the country's deposit return scheme (DRS), after a newly released draft legislation confirmed that glass will be included in the programme scheduled to come into effect on 1 April 2021.
The consultation period will allow for industry leaders, MSPs and stakeholders to give their views on the draft legislation – with glass likely to be an issue raised, given the continuous debate on the inclusion of the material since plans for DRS were announced in 2018.
September 10 marks the first time the Government have officially said glass will be included, coming just weeks after British Glass penned an open letter to the environment secretary, Roseanna Cunningham, warning that the inclusion of the material would 'act against Scotland achieving its environmental ambitions.'
Roseanna Cunningham said on the release of the draft legislation, "Our Deposit Return Scheme is the first national scheme of its type in the UK. It is ambitious in scale and scope, and gives the people of Scotland a clear and straightforward way to do their bit for the environment.
"Research has shown that the scheme is anticipated to reduce the £46 million spent each year on litter removal and is expected to reduce emissions equivalent to taking 85,000 cars off our roads, while also enjoying widespread public support across Scotland.
"There is a global climate emergency which demands we show ambition to tackle it and safeguard our planet for future generations. This process will enable us to fine tune our proposals to ensure that they work well for industry, retail and the public, and we will continue to work with the Implementation Advisory Group to that end. I am delighted to confirm that the regulations required to bring our Deposit Return Scheme into reality have now been laid."
Iain Gulland, chief executive of Zero Waste Scotland, said, "These regulations put Scotland on track to deliver a world class deposit return scheme. Placing a 20p deposit on drinks bottles and cans shows that these materials have a value to our economy, and a cost to our climate if they are wasted.
"That 20p incentive will boost recycling and cut Scotland's CO2e emissions, playing a part in the fightback against the climate emergency. It's little wonder that nearly four in five Scots support it. With drinks producers given the opportunity to group together to deliver the scheme, they can lead this exciting step towards a more circular economy."
DRS will see a 20p deposit come alongside the sale of drinks containers made out of glass and PET plastic, as well as aluminium and steel cans. Consumers will be able to retrieve their deposit by returning the containers to in-store recycling machines.
Those wishing to comment on the draft legislation details can do so here.