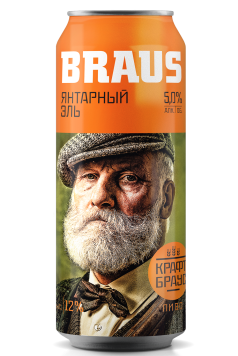 A Russian beer brand has chosen aluminium cans to give a craft beer range a 'refreshed identity'.
Alcon's Premium BRAUS and Amber Ale BRAUS products first entered the beer market last summer in 50-centilitre glass bottles. With beer in cans growing in popularity in Russia, Alcon has teamed up with can manufacturer Ball Corporation to have the products packaged in aluminium cans.
Ball's HD technology has been utilised to produce 'fine attention to detail' that reflects the personality of each flavour through facial illustrations on the can. In partnership with Ball, ASGARD Branding Agency and AMA-LAB, Alcon also added Augmented Reality (AR) technology. Consumers can download the BRAUS mobile app, point their camera at the beer label and see and hear the portraits come to life.
Nikita Volkov, marketing director for Alcon said, "With craft beer becoming increasingly popular in Russia, as well as the rising popularity of our BRAUS range, we made the conscious decision to launch the range in aluminium cans to not only reach out to new fans but also drive home our sustainability credentials. When creating the original design for BRAUS, we wanted to be the first in Russia to launch an AR project like this and we're delighted with the results we have achieved."
Irina Dolyanovskaya, Russian sales manager at Ball added, "We are really inspired by companies like Alcon who embrace sustainability and aim to change their footprint and we're delighted that they chose us to partner with to bring their new designs to life. As market leaders ourselves, we're overjoyed that Alcon was able to utilise our enhanced can technology to bring the first AR activation to Russia and we can't wait to see the results of its performance on-shelf."