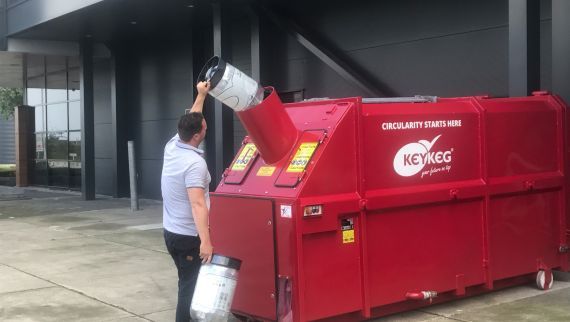 WYLIE Recycling has joined the OneCircle initiative to provide a KeyKeg recycling service to Breweries in Scotland.
The Perth-based recycling firm will process the empty kegs from those who use the service, before sending the recycled plastic back to KeyKeg to make new kegs.
Wylie Recycling's liquid destruction service means that brewers can claim back excise duty on products which haven't sold or out of date. They say that all packaging is 100% recycled with zero landfill, and all beverages are processed into high-quality fertiliser and renewable energy.
John Gilmour, commercial manager of Wyllie Recycling, said, "We are delighted to be part of the OneCircle initiative, helping KeyKeg users in Scotland make sure their packaging is recycled and reused. It also ensures KeyKeg is ahead of the game when it comes to Scotland's move towards a deposit return scheme for bottles and cans and is delivering on its commitment to the circular economy."
Annemieke Hartman from OneCircle commented, "KeyKeg is the industry leader when it comes to circular design and we work with partners as part of our initiative to manage and accelerate the recycling of our kegs. I am pleased to welcome Wyllie Recycling to the OneCircle community and the expertise it brings."