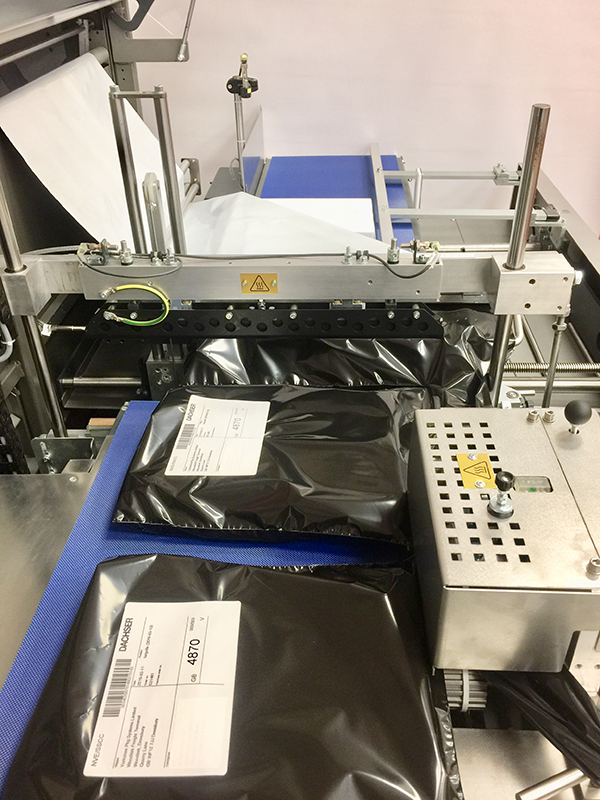 ADVERTORIAL
THE world of retail is changing, and therefore so is its packaging. To compete successfully in the e-commerce platform, businesses must ensure they offer a professional service from first click right through to delivery, meaning that new considerations come into play for their packaging.
Where once the packaging agenda for the consumer market focussed mainly on shelf-ready aesthetic presentation, now it needs to serve other purposes including being damage-resistant, compact and space-efficient for transportation. Furthermore and very importantly, the packaging for e-commerce goods has to be labelled accurately for a problem-free delivery. The need to get this element right has been heightened since the implementation of GDPR laws in 2018 which serve to protect sensitive customer information.
It is this requirement for total accuracy in labelling, and the need to streamline the whole wrapping process to meet increasing demands, that has shaped the most recent innovation in our machinery offering at Yorkshire Packaging.
The challenge has been to link the shrink wrapping process, something we have over 40 years of expertise in, with the data handling software and labelling, to offer a complete solution to our e-commerce customers. To achieve this, we have partnered with our German manufacturer and supplier Hugo Beck, who are recognised as world leaders in packaging technology.
Our collaboration has resulted in a powerful integrated solution – our Flexo E-COM – that incorporates a print and apply data management system into our existing shrink wrapping equipment.
The brilliance in this new solution is its insistence on faultless precision. To avoid any opportunity for error, the system only works with one piece of data at any one time. In some alternative models on the market, the label and apply system holds a whole batch of data and dispenses address labels one by one onto packages leaving the wrapping line.
The downfall in this method is that should a parcel on the conveyor be removed, a stream of incorrectly labelled parcels will follow. By contrast, our Flexo E-COM works by feeding one product at a time into the shrink wrapper which has the print and apply system mounted inside.
The system reads the product and prints one label using only the one data record it holds. The product is then bagged by the shrink wrapper and the system applies the printed label, before destroying the data and waiting for the next product. This one-in-one-out process eliminates any chance of operator error or glitches and ensures absolute reliability, security, compliance with data laws and complete peace of mind.
YPS are proud to announce that our innovative print and apply labelling e-commerce solution is now available to any e-commerce retailer looking for a robust and dependable packaging solution.