Wine wholesaler's new initiative to showcase flat wine bottle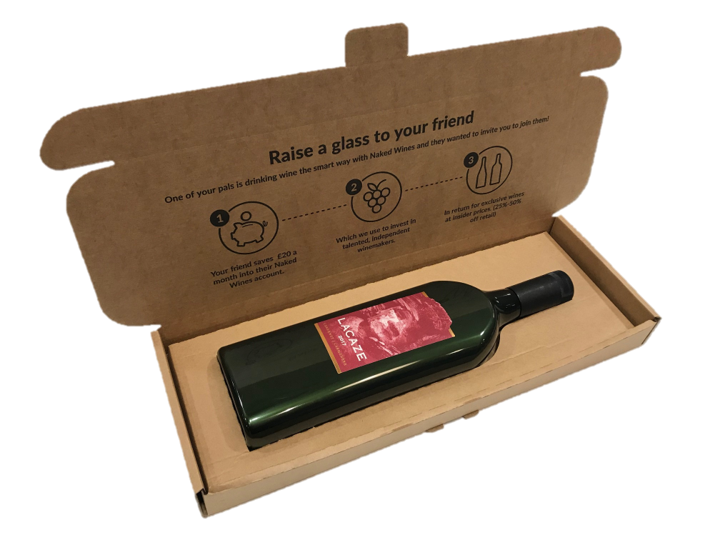 PACKAGING designer and wine wholesaler Garçon Wines has teamed up with an online wine retailer in a bid to promote its flat wine bottle and acquire new customers.
London-based Garçon Wines is working with Naked Wines, an online retailer and crowdfunding group for small winemakers, on a new customer acquisition initiative.

Selected Naked Wines' subscribers are being given the opportunity to gift a friend with a Garçon Wines flat wine bottle, which can be delivered through a letterbox and is made from 100% post-consumer recycled PET.
Santiago Navarro, CEO and co-founder of Garçon Wines said, "As the UK's most successful wine club for the past decade and with this success having been fuelled by business model innovation, Naked Wines makes for the ideal partner with whom to further grow the adoption of our innovative Garçon Wines bottles in the UK.
"We are honoured to be supporting Naked in further building their UK customer base by introducing their delicious wines in our bottles to wine drinkers who do not yet buy from them. We believe this is the next step up from the immensely successful voucher campaigns they have run to date."
He added, "We will also hopefully help grow the gifting side of their business through a seamless, quality offering."
Laura Rosenberger, Naked Wines CEO said, "We are excited to partner with Garçon Wines. With Garçon's letterbox-friendly bottles, we can now offer our customers a new way to send gifts and introduce their friends to Naked with a bottle direct to their doormat."
You can read more about Garçon Wines' flat wine bottle in Packaging Scotland's interview with Santiago Navarro here.
Tagged GARÇON Wines