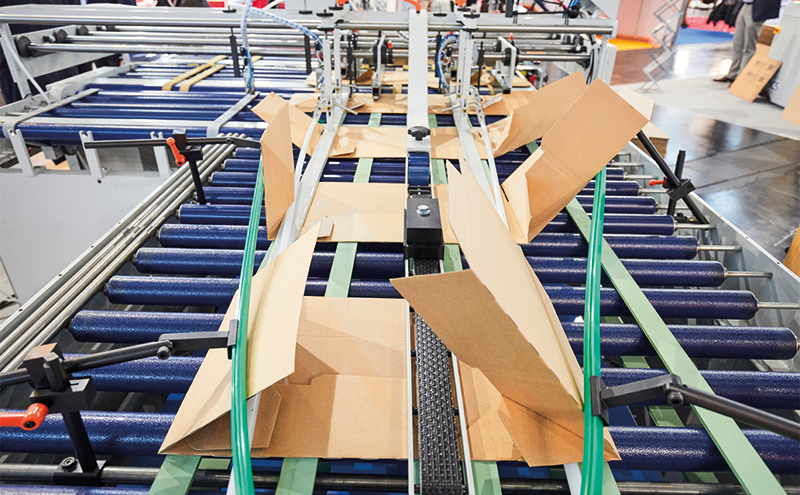 LONG gone are the days when corrugated packaging was merely functional. With innovation playing a greater role in the industry than ever before, and demand for sustainability on the increase, the timing for the 4th CCE International exhibition couldn't be better.
Co-located with ICE Europe at the Munich Trade Fair Centre from March 12-14, CCE International remains Europe's only trade fair solely dedicated to manufacturing and converting corrugated and cartonboard.
As with ICE, this year's event is expected to have a major focus on both sustainability and digitalisation.
The folding and corrugated carton sector is booming, thanks in part to demand for environmentally friendly packaging and the rise of Internet shopping. However, to remain competitive, it is important that the industry incorporates digitalisation, including digitalised production and planning processes as well as new ways of communicating with customers, tracking packages, and individualising designs.
Organisers of CCE International 2019 said visitors will discover innovative materials, machinery, accessories and services which make these trends a reality.
Susanne Neuner, PR and marketing director for event organisers Mack Brooks Exhibitions, said, "Like ICE, CCE is a very targeted exhibition. It focuses on corrugated and cartonboard. From the exhibitor side, we've got 150 exhibitors coming from 22 countries currently. They occupy a net floor space of 5,000 sqm.
"The event is co-located with ICE Europe but is held in a separate hall. The exhibitions are linked so once a visitor is in the exhibition venue, they can go from one show to the other."

Susanne said a major trend this year will be the growing opportunities associated with digital print. "Digital print on corrugated came up a few years ago and is now at a stage where printing on corrugated or directly onto folding boxes offers a variety of new business opportunities," she explained. "Beforehand, corrugated was often only a functional material; a bit boring. Now it has become a material which has substantially increased in value.
"It is now the time for change. Beforehand there was not a lot of room for fundamental innovation in this industry because it was more or less a functional packaging. Being fully recyclable, it has always been environmentally friendly. Now with new opportunities like printing on corrugated and folding boxes being laminated, they offer much more value for customers.
"This is why it's very important to visit a show like CCE to see all these new trends emerging and already being used. These new applications are no longer a vision; today it is a must that corrugated convertors know about these emerging trends and gain the knowhow to use the latest processing techniques to meet current demands."
As well as live demonstrations, CCE International 2019 will feature a seminar programme, with focal points including "sustainability", "processing technologies" and "digital print".
"The seminar programme focuses on very practical sessions," Susanne added. "They will be short sessions held on all three days of the show where experts talk about new trends, optimised processes, practical hands-on solutions and share their knowledge. All of the sessions are followed by questions and answers so it's a very interactive seminar programme. You do not have to leave the exhibition; the seminars are held within the show floor so people can drop in, follow a session and then maybe visit a few stands before coming back to follow another session. It's very convenient for the visitor and is included in the entrance ticket price."
• For more information, visit http://www.cce-international.com/