Paint firm takes Crown for 100% recycled containers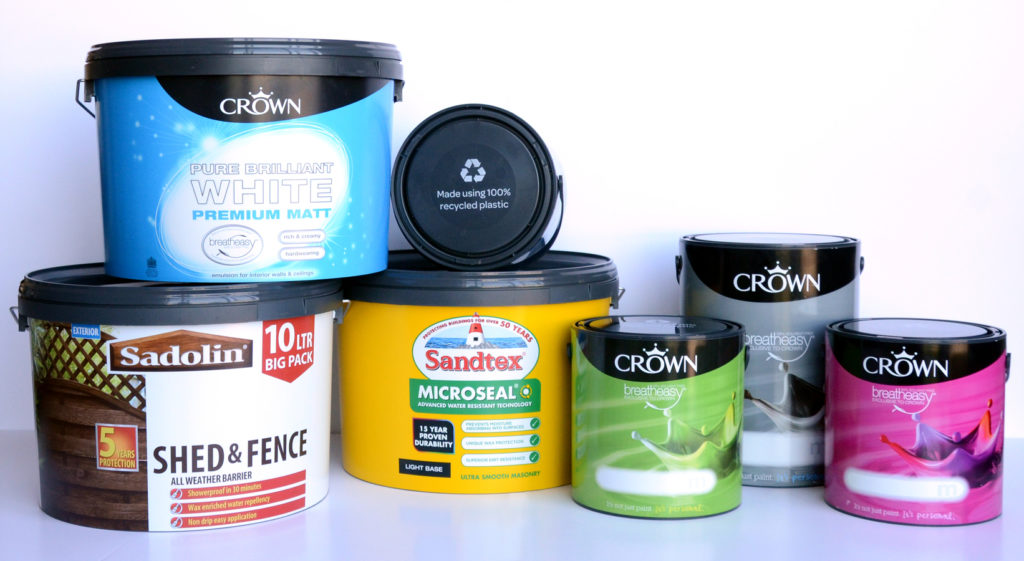 CROWN Paints is set to launch new paint containers made from 100% recycled plastic in what it is describing as a UK first.
The plastic 2.5-litre and 5-litre containers have been manufactured by packaging firm Emballator, using 100% post-consumer waste (PCW) plastic for each container.
The manufacturing process involves separating polypropylene plastics such as shampoo bottles, yoghurt pots, plastic water bottles and even elements of household appliances from unusable plastic waste, which, according to Crown Paints, will save thousands of tonnes of PCW plastic from otherwise ending up in landfill.
Once sorted, the PCW plastic is turned into individual pellets that are then dyed and moulded to create Crown's new paint containers.
The containers are to soon be rolled out across the entire Crown Paints range, including its larger 10-litre tubs and Crown Trade products. All containers are fully recyclable once empty and clean.
The company said the new paint cans are "the ideal choice for today's environmentally conscious consumers".
Julie Entwistle, packaging buyer at Crown Paints said, "We've invested a great deal in creating this innovative new packaging and have worked closely with the Emballator team to create a product which is made entirely from recycled plastic. This marks a significant improvement to the plastic paint containers manufactured from 25% recycled plastic which are currently available in the UK."
Liz Hickson, marketing director at Crown Paints added, "We recognise that public waste is a huge concern to all of our customers whether in the trade or retail market so we're proud to be able to pay our part in reducing the volume of reusable post-consumer waste plastic ending up in landfill unnecessarily.
"Once the new packaging rolls out to our full range, it has the potential to save many thousands of tonnes of plastic each year from otherwise going to waste and we're pleased to be able to offer our customers a more sustainable choice at the same time."
Gerard Dibb, managing director at Emballator commented, We are proud to support Crown Paints in bringing this innovative 100% recycled container to market at a time when the public's concerns over plastic waste levels have never been higher.
"Plastic paint can producers have been striving to break the 25% recycled level for many years and to reach the 100% level is a great achievement. The technical requirements of these containers were very challenging but we succeeded by working in cooperation with leading plastic recycler ImerPlast, whose innovative and unique compatibilisation of the post-consumer waste made this project feasible."
Tagged Crown Paints, Emballator