A new collaborative initiative that aims to turn the tide on the UK's issue of plastic waste has been announced.
The UK Government's 25 Year Environmental Plan is to be the first of a network of national implementation initiatives of the New Plastics Economy in several countries around the world.
Prime Minister Theresa May today (January 11) outlined the steps to eliminate avoidable plastic waste by the end of 2042. To help achieve this, the 5p carrier bag charge will be extended to all retailers in England and supermarkets will be encouraged to introduce plastic-free aisles in which all food is loose.
The Government will also look at how the tax system or charges can encourage producers to take more responsibility for the environmental impact of their products and make them easier to recycle. It also "wills to inject new funding into plastics innovation through a bid into the Government's £7 billion research and development pot".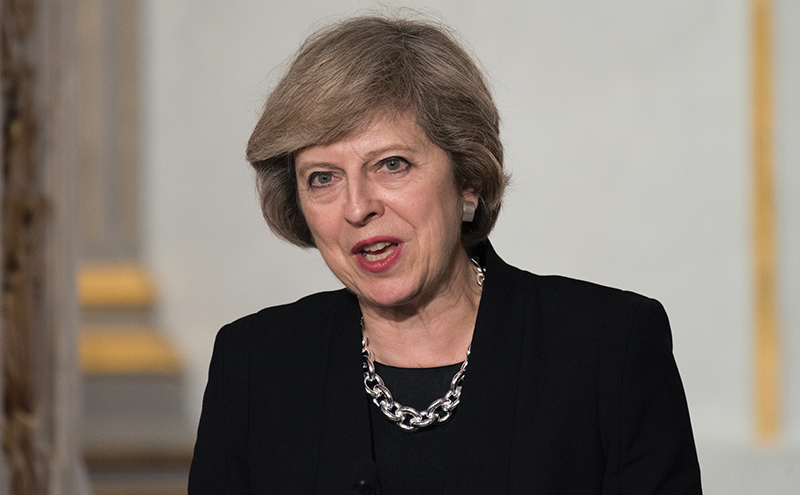 In a speech, Theresa May said, "We look back in horror at some of the damage done to our environment in the past and wonder how anyone could have thought that, for example, dumping toxic chemicals, untreated, into rivers was ever the right thing to do.
"In years to come, I think people will be shocked at how today we allow so much plastic to be produced needlessly. In the UK alone, the amount of single-use plastic wasted every year would fill 1,000 Royal Albert Halls.
"Today I can confirm that the UK will demonstrate global leadership. We must reduce the demand for plastic, reduce the number of plastics in circulation and improve our recycling rates. To tackle it we will take action at every stage of the production and consumption of plastic."
The Prime Minister added, "I want the Britain of the future to be a truly Global Britain, which is a force for good in the world. Steadfast in upholding our values – not least our fierce commitment to protecting the natural environment.
"When we host the Commonwealth Heads of Government Meeting in April we will put the sustainable development of our oceans firmly on the agenda.
"We will work with our partners to create a Commonwealth Blue Charter and push for strong action to reduce plastic waste in the ocean.
"We will direct our development spending to help developing nations reduce plastic waste, increase our own marine protected areas at home, and establish new Blue Belt protections in our Overseas Territories."
The UK initiative is currently in development by sustainable production and consumption organisation WRAP, and is a joint partnership with the Ellen MacArthur Foundation.
It will involve collaborative action and commitment by businesses, industry, governments, local authorities, NGOs, media and society to "redefine what is possible and create a plastic system that works – a circular economy where plastic is valued and never becomes waste," according to a statement released by WRAP.
The initial focus of the plan will be plastic packaging and will aim to eliminate unnecessary and problematic single-use plastic packaging, ensure all plastic packaging is reusable, recyclable or compostable, significantly increase the collection and recycling of plastic packaging, increase recycled content in plastic packaging to drive demand for recycled material and impassion and enable citizens to play their part in reducing plastic packaging waste and litter.
Marcus Gover, CEO at WRAP commented, "So far the solutions to plastic waste have been piecemeal. I am pleased to be leading this holistic initiative which will transform the UK's plastics system. Working with the Ellen MacArthur Foundation, we will bring together every 'body, business and organisation' involved in the life-cycle of plastics to make the move from a throw away culture to one where resources are used over and over again."
Dame Ellen MacArthur added, "Creating a circular economy for plastics amounts to a huge opportunity for the economy as well as providing a longer-term benefit for the environment. Achieving it will require close collaboration and significant commitment from industry, government, and society at large. We are delighted to work with WRAP to help unleash such collaboration here in the UK, as a first national implementation initiative of our global New Plastics Economy initiative."
In response to the announcement, Simon Ellin, chief executive of the Recycling Association said, "When it comes to the recycling, resources and waste elements of this plan, we've been talking about driving improvements for many years.
"It's good that there now appears to be an understanding of the challenges and a desire to tackle them. But having a vision will not suffice. We need real and positive momentum to drive change.
"For this reason, we will continue to put pressure on the complete recycling supply chain to look for new solutions and do things differently. And that includes government."
The British Plastics Federation (BPF) welcomed the UK Government's "commitment to provide a higher level of funding for plastics innovation" but said it was "very disturbed that the tone of language used in the speech does not recognise the important benefits that the plastics industry brings to the UK, including 170,000 jobs". A statement from the BPF called for a tougher stance on littering and an increase in recycling infrastructure.
The statement said, "Plastics themselves save energy. They are low carbon materials, crucial in the fight against climate change. Their light weight and durability cuts fuel consumption in vehicles and aircraft and reduces pollution. They provide protection for products and prevent food waste. By encouraging plastic-free aisles, the government is creating an impression that the use of plastics is inherently wrong.
"Typically, food waste in stores increases by a third without packaging. For example, a wrapped cucumber lasts 14 more days than one that is not. Cutting out plastic packaging for fresh produce will actually harm the environment through increased CO2 emissions because the energy used to produce food is much greater than in the packaging protecting it."
The statement continued, "Plastics should not be in the sea and it is right that the UK, alongside other developed nations, should set an example of best practice. As has been pointed out, the vast quantity of plastics in the seas arrive there from the less developed economies of Asia, which have rudimentary waste management systems. Plastics get into the seas by a number of routes and each route needs to be dealt with separately."
Aluminium food packaging manufacturer Advanta has responded to the announcement by calling for food manufacturers to explore alternatives to plastics, such as aluminium, glass and paper.
"The UK can tackle the plastic problem, but it is not just down to consumers and supermarkets," explained Miguel Campos, export sales manager for Advanta. "With supermarkets proactively seeking plastic free product lines, we need to see an increase in food manufacturers developing products that are sold loose or contained in aluminium, glass and paper alternatives.
"These changes should be complemented by consumer recycling initiatives, backed by local councils, to educate the consumer. Ultimately, it will take a holistic approach to reducing the plastic packaging that reaches landfill as effectively as possible. I commend Theresa May on addressing this issue, but I also believe there are other avenues to explore in regards to promoting the benefits of choosing plastic alternatives."
UK plastics recycler Vanden Recycling said the Government's 25 Year Environment Plan had "sensible suggestions for developing UK plastics recycling".
The company particularly welcomed proposals including an emphasis on local material collections that return high quality materials back to the economy, a commitment to stimulating internal UK markets for recycled products while also recognising the importance of strong secondary material export markets, a proposal to work with industry to rationalise packaging formats to make sure that more plastics can be easily recycled and the quality of collected recycled plastics is improved, and the idea of reforming producer responsibility systems, including packaging waste regulations, to incentivise producers to take more responsibility including creating a better market for recycled plastic.
Managing director David Wilson said, "It is great that the Prime Minister is looking at the issues around plastics recycling. I welcome the sensible suggestions put forward in this 25-year Environment Plan.
"However, as recently calculated by us, 350,000 tonnes of material that was once exported to China will struggle to find a home in 2018. I hope the Government's commitment to plastic recycling will now lead to more solutions in the short-term to stimulate plastic recycling in the UK, and ensure material is of high quality for export to recycling facilities abroad.
"If it takes 25 years to reach some of these aims, that will be too long for the development of an economically sustainable plastics recycling sector in the UK."
He added, "We are pleased that the Government has recognised the importance of plastic recycling, and are encouraged that it wishes to work with the waste management industry and plastic reprocessors to increase the proportion of plastic packaging that is collected and recycled.
"Plastic can be an ideal packaging material that prevents wastage of food and products and we are encouraged that the Government recognises the importance of both recycling and lifecycle analysis in its plan.
"However, while a commitment to accelerating research and development in plastics and plastic recycling is welcomed, we would be concerned if this led to development of more biodegradable plastics that could contaminate the existing plastic recycling streams."