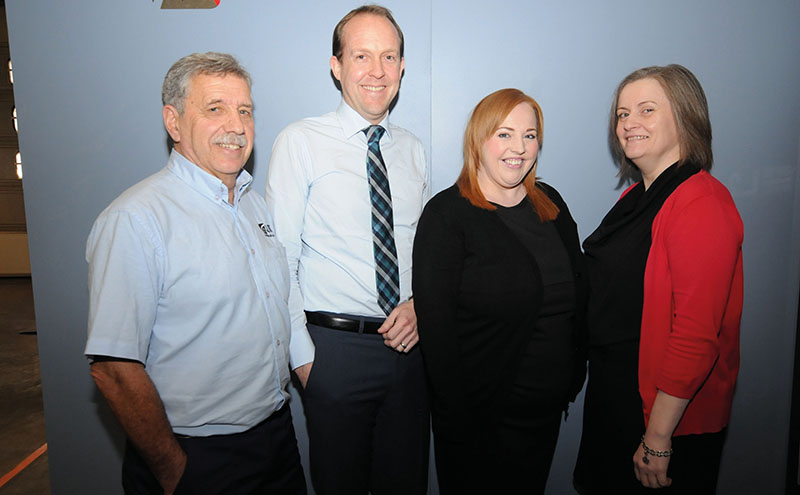 "NOBODY packs enough any more." Nigel Fleming, managing director of Lanarkshire-based J.I.T. Industrial Products, heard an export manager utter those very words at a seminar recently and he couldn't agree more.
"In this day and age, when you send something from A to B, the chances are that unless you've got the right wrap on it, the right presentation of box, the right tape, the right paperwork, and it's all intact and secure, customs will have a field day," Nigel told Packaging Scotland. "You can't release the goods until such times as everything's right. It's going nowhere; there are fines and penalties.
"You can try and sell packaging on price and price only, but ultimately it's how things look and how well things are wrapped that is key. I don't think people give as much attention to achieving that quality. What J.I.T. does is work with key clients and customers to ensure they're receiving the best product, the best value and to have a consistent assured supply."
Nigel's father, Barrie, who had previously spent many years with 3M's industrial tape division, founded J.I.T. in 1989. Operating from a site in Bellshill, J.I.T. distributes a wide range of tapes, films, adhesives and abrasives to manufacturing companies around the world. The firm works with producers to provide products to customers operating in a variety of sectors including electronics, defence, food and drink, distribution and construction.
The company converts many Dupont films such as Kapton Polyimide, Mylar PET and Melinex biaxially-oriented, polyester films. J.I.T. also has access to technically advanced equipment for the precision slitting of rolls to exact widths, or complex die-cut shapes with easy removable liners.
Having selected the correct film, J.I.T. said it offers customers specialist knowledge in converting to help them "save, solve or improve" on their product or manufacturing processes. This can involve working from customer drawings or by producing specifications and samples for approval.
The business has been going strong for almost three decades now, with Nigel putting much of the success down to strong family values. "There's a big pride and passion that comes with a family business that perhaps you don't get elsewhere," he explained. "It's hard to replicate. My father started the business in 1989. I joined in 1994. It's all built around family values. We have a very good team. People are key to any business; if you get the right people and the right passion and drive, and you are engaging with customers and, most importantly, listening to customers, the business will always develop."
J.I.T. has a small, tight-knit team on-site, made up of Bill Hughes (QA and logistics), Angela Walker (associate – customer service and business development) and Elizabeth McCallum (associate – sales and business development). They've all been with the company for a long period of time. Barrie Fleming is enjoying retirement but retains an active interest.
"Every business has got its DNA and culture," Nigel added. "People deal with people. You've got different people phoning with different requirements. That family value principle is very important.
"Since we first started, the biggest driving factor is that all sorts of companies have come to us as a materials selection partner.
"To me, the key is to find out what it is that the customer needs to make an improvement in their process; a better way of doing things is what's important.
"Although packaging is a large percentage of our business, there are two different sides. We do specialist tapes – this company was born from a specialist tape background in 1989. All the electronics (businesses) and Silicon Glen were here so we enjoyed a lot of that business. We then moved into food, drink, distribution, engineering. We have some quite prestigious customers but it all comes back to quality products, professional service, adding value or improving a process. We're not just a packaging company but we do have a lot of clients who use our products."
Examples of the type of products supplied by J.I.T. include; integrated valve film for coffee roasters, whereby the valve is pre-applied to the film during the manufacturing process to increase running speed; custom heavy duty identification tapes that provide visual identifiers to warn of potential risks from danger and prevent accidents; tamper evident security seal tape that leaves the warning message "void open" at any attempt to remove it; and pallet wrapping machines.
"It is an ever-changing landscape but there's still a need for a material selection partner," Nigel said. "People need help in selecting the right product or application. We are a "go-to" company; an advice centre, a centre of excellence for achieving a better result or a better finish or just alleviating a problem because I always feel the most important thing is people want to get rid of problems that have arisen. Price is always important and always needs to be discussed. But it shouldn't be the first thing; it's important to get the quality right.
"The key (to standing out) is to differentiate yourself from the others. I try not to follow the grain. I try to offer something different to my customers. It's about being innovative and forward thinking, always looking for the right new material that can offer a benefit and then communicating that effectively with your audience."
J.I.T. started life in smaller premises on the same Bellshill industrial estate it calls home today. The firm's current base has ample office space as well as warehouse facilities and room for the company's own vehicles. Nigel believes location is "very much" an advantage. "We're the first stop for everything coming up from south. We're surrounded by all the major distribution links also all the major carriers and couriers."
In terms of challenges, the business came through the recession through a combination of resilience and being "clever" with its approach to developing new business while retaining what it already had. "Size was a benefit," Nigel explained. "We're small so we're resilient. Like anything, it becomes an opportunity to learn. I think the recession showed up a lot of businesses that were well run and it showed up a lot that were badly run because, ultimately, it's the ones that were well run that are still here."
The firm's tagline is, appropriately, "stick to what we know". Although the business has evolved since the late 1980s, Nigel said the principles of quality, service, delivery and employing the right people have remained unchanged throughout its lifetime – and will continue to set the agenda as the company presses ahead into the future.