A new standard for SAICA Pack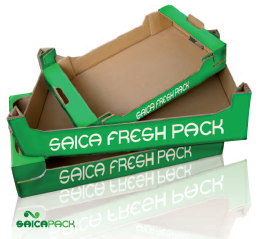 SAICA Pack has worked with the Confederation of Paper Industries (CPI) on the introduction of the Common Footprint Quality (CFQ) standard for produce trays in the UK.
The new CFQ standard, which lays down criteria for produce trays based on strength, size, shape and stackability, aims to "provide consistency in packaging across Europe".
The CFQ accreditation is verified both internally and independently within atmosphere conditioned laboratories. An independent auditor will also visit CFQ manufacturing sites twice a year to carry out an audit on processes and protocol.
Richard Knight, Fresh Pack UK & Ireland market manager, SAICA Pack, commented, "Here at SAICA we are extremely proud that our CFQ boxes all passed the tests and are now fully accredited and available.
"SAICA Pack is very proud to be a key driver of the CFQ project and being fully accredited means we can now offer CFQ boxes, providing an extra assurance of quality to our customers."
Andy Barnetson, director of packaging affairs at CPI, added, "The new CFQ standard will further improve the efficiency of the fresh produce supply chain and it demonstrates that the UK corrugated industry is constantly striving to provide the best possible packaging solutions for customers.
"We are very pleased that SAICA Pack is investing in this important new development."