A fresh look for blended whiskies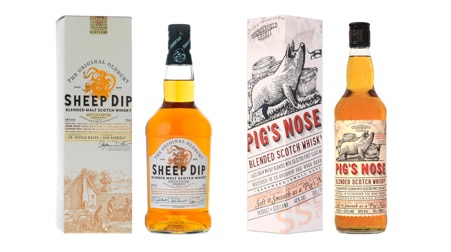 NEW packaging designs have been unveiled for Pig's Nose and Sheep Dip blended whiskies.
Produced in Scotland as part of the Ian Macleod Distillers' portfolio, both whiskies are exported around the world to countries including Russia, Germany, Italy, France and the USA.
Ian Macleod Distillers said both redesigns "celebrate the story and quality of the spirit".
The new look Pig's Nose includes an illustration of the spirit's namesake in the centre of the packaging. The distillers said the inclusion of Invergordon grain whisky and aging in bourbon barrels, also finds "cues" in the new design.
Sheep Dip is a small batch, premium blend of 16 single malts. Ian Macleod Distillers said a "more iconic carton that balances quality with whimsy" was the brief given to London-based packaging experts Stranger and Stranger.
Neil Boyd, commercial director for Ian Macleod Distillers said, "We are delighted to reveal the new packaging designs for our blended whiskies, Pig's Nose and Sheep Dip. The refresh celebrates the growing global momentum for both brands and our continued commitment to premium, small batch spirit for the modern Scotch whisky drinker.
"We look forward to rolling out the new designs with immediate effect in all territories and beginning an exciting next chapter for these two iconic brands."
Tagged Ian Macleod Distillers