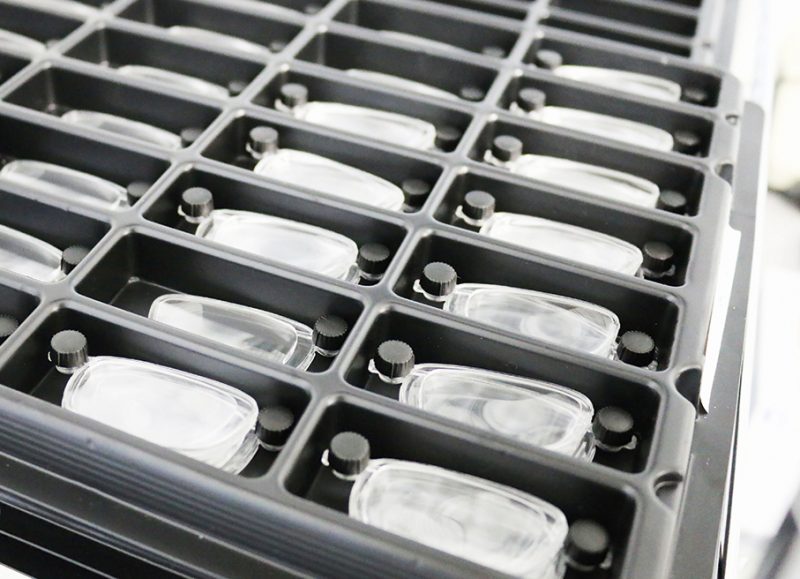 SELF-ADJUSTING glasses, a pocketable sharps holder for diabetics and an intelligent hand dryer were among the winning entries at the 2016 Plastics Industry Awards (PIAs).
Over 650 industry professionals attended the ceremony in London, hosted by TV presenter Mark Durden-Smith.
Eyejusters, described as self-adjusting glasses that offer the possibility of clear vision for the first time to millions of people, picked up three awards including the Best Business Initiative of the Year. Fanuc UK won the Supplier Partnership – Prime Machinery Award for its work with Eyejusters and Hi-Tech Automation also scooped the Supplier Partnership – Ancillary Machinery award for its contribution to the same product.
Winner of the Consumer Product of the Year was Trunki for the Jurni, a skate-wheeled suitcase for teenagers that can also be used for locker style storage. PIA judges were impressed by its extensive use of "plastic mouldings, clever design and minimal use of metal, screws and fixings".
Industrial Product Design of the Year went to HJC Design for SA Vortex's Eco-Curve eco-efficient hand dryer. Judges praised it for "engineering excellence, extensive use of recycled plastics and appropriately clean design".
Best Recycled Product of the Year went to Counterplas for the Loft Stilt, designed in collaboration with Birmingham Innovations. Made from 100% recycled polypropylene, Loft Stilt is said to enable home owners to raise the height of a loft floor above existing joists to achieve a maximum loft insulation thickness of 270mm.
Adam Haynes won Young Designer of the Year for the Bastion portable sharps bin, a pen-sized case moulded from polypropylene which for the first time allows diabetics to carry a day's supply of needles in a neat, pocketable container.
Other winners included Julia Moore, Chief Executive of the GTMA (Gauge and Tool Makers Association) who was given the Personal Contribution Award for her years furthering the cause of UK plastics manufacturing. Paul Hunter of Andel Plastics won a champagne lunch for two at Gordon Ramsay's Savoy Grill in the new category of Unsung Hero. Apprentice or Trainee of the Year went to Lucy Hickling of Plastribution.
Matrix Plastics scooped the revised award of Supplier Partnerships – Materials for its work with Belgian food packaging group deSter to develop "new and innovative" colours in plastic packaging for airline-based applications.
Steve Crowhurst, managing director at Crain Communications, organisers of the PIAs said, "This is the sixteenth time we have brought the UK plastics industry together to celebrate an outstanding year of innovation. Our winners are driving UK plastics forward and making a real difference on an individual, industry-wide and environmental level. I am delighted we are able to give them the national recognition they deserve."
Plastics Industry Awards 2016 winners:
Consumer Product Design of the Year
Trunki Jurni suitcase
Industrial Product Design of the Year
HJC Design for Eco-Curve hand dryer
 Best Recycled Plastic Product
Counterplas for the Loft Stilt
Young Designer of the Year
Adam Haynes for Bastion Portable Sharps Bin
 Apprentice or Trainee of the Year
Lucy Hickling of Plastribution
Best Technology Application of the Year
Sumitomo Demag UK
 Best Environmental or Energy Efficiency Programme of the Year
Rutland Plastics
 Best Business Initiative of the Year
Eyejusters
 Best Training and Development Programme of the Year
Corrosion Resistant Products
 Unsung Hero (New Award for 2016)
Paul Hunter of Andel Plastics
 Processor of the Year
Boddingtons Plastics
 Supplier Partnership – Materials (New Award for 2016)
Matrix Plastics – deSter
 Supplier Partnership – Prime Machinery
Fanuc UK – Eyejusters
Supplier Partnership – Ancillary Machinery
Hi-Tech Automation – Eyejusters
Supplier Partnership – Toolmaker
Faulkner Moulds – Richard Carter
 Personal Contribution Award
Julia Moore