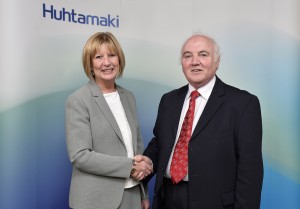 Huhtamaki has snapped up Belfast-based Delta Print and Packaging Ltd in a deal worth £80 million.
The acquisition includes Delta's production plant in Poland – European Packaging Solutions. Finnish-headquartered Huhtamaki said the move strengthens the firm's position in the foodservice packaging market and will allow it to expand its offering of fiber based packaging.
Delta, a manufacturer of printed folding carton packaging, was founded in 1981. Huhtamaki confirmed the existing management team will remain unchanged and will report to Rosemary Mason, MD of Huhtamaki Foodservice Western Europe and UK.
Mrs Mason said, "To date, our product offering has focused on food-to-go packaging such as cups, lids, plates, bowls and cutlery for some of the leading food and foodservice brands in the world. The acquisition of Delta, which manufactures board products complementary to our own such as burger clam boxes, fry cartons and flat cartons for many different retail products, will allow Huhtamaki to enter the fast-growing folding carton business in Europe and strengthen our global customer partnerships.
"We recognise that the 290+ employees of Delta, and their experience, skills and knowledge of the industry, have been integral to the success the company has enjoyed over the last 30 years and we look forward to welcoming them on board and increasing the number of Huhtamaki employees in Northern Ireland."
Delta founder, Terry Cross OBE, who will remain as a Senior Advisor, added, "I am delighted that Delta has become part of the Huhtamaki organisation which is a leading, global specialist in food and drink packaging. Thirty five years on from our first transaction, now is the time for the company to take the next step in what has been, and what will continue to be, a very exciting journey for the company, our employees and our customers."