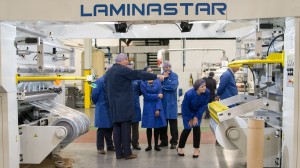 TCL Packaging has announced it will host a Spring technical learn shop at its Telford factory.
The free event, titled 'Understanding the print and production process for flexible packaging', takes place on Wednesday 11th May and will feature presenters from Reproflex3 and Sun Chemicals.
Technical speakers from TCL will cover the latest developments in flexographic print and treatment processes, reprographics, plate-making and ink technology and how to select the right films to suit specific products.
TCL said the event is aimed at people who design or specify printed packaging films to share knowledge and develop further learning. The day consists will include talks and practical sessions including access to a working press and test facilities.
"Attendees will gain in-depth knowledge of flexographic print, substrate material choices, treatment methods, using the right packaging for their products and how to overcome common challenges and problems," the firm said.