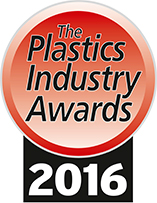 Entries are open for the Plastics Industry Awards (PIA) 2016.
The PIAs are free to enter and are open to supplier companies, OEM manufacturers, plastics processors, consultants, trainees and designers.
The awards, launched in 2001, take place at the Hilton on Park Lane in London on Friday 30 September and entries must be submitted online by 27 May.
This year's event will include two new categories – the 'Supplier Partnership – Materials' award, which is open to companies "producing, supplying or distributing polymers, additives, colourants or masterbatch products to a customer for a specific project" and the 'Unsung Hero' award, where firms are invited to nominate a staff member who goes 'above and beyond'.
Helen Flowers, managing director at Andel Plastics, which won Best Business Initiative in 2015, said, "It was our first time entering the awards and we really felt it recognised all the effort we have put in to grow and expand the business for the future. Being such a prestigious award both within the industry and wider business community it has helped inspire confidence in our services and business culture."
Mark Penver, industrial designer at 4c Design, who was named Young Designer of the Year at the 2015 event, said, "Receiving the award has really pushed my career forward with recognition in the design industry, and has helped me continue designing beautiful products."